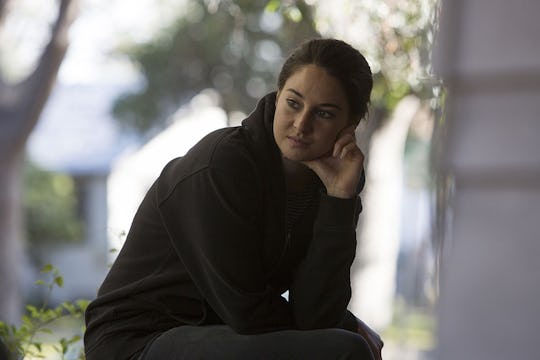 Hilary Bronwyn Gayle/HBO
Jane May Confront Ziggy's Dad On 'Big Little Lies'
At the start of Big Little Lies, we were of course curious about the identities of the Trivia Night victim and killer, but that's not all. We're also curious about Jane's past. She just moved to Monterey with her son, Ziggy, so no one else knew much about her, either. In the premiere episode we saw glimpses of a traumatic past, and a few weeks later she revealed that she was assaulted. The assaulter turned out to be Ziggy's father. Will Jane confront Ziggy's dad on Big Little Lies? She still suffers from what happened.
Perhaps Jane moved to Monterey to get away from her past, but it's evident that it followed her there. We see her flashbacks, like her running on the beach in a torn dress and lying facedown on a bed. She also experiences hallucinations of a man breaking into her apartment. The man who assaulted her, who went by the name Saxon Banks, hasn't left Jane's mind in the six or seven years since the assault happened. On Sunday's episode, Jane called it rape — and she did not mince words about what she would do to him if she encountered him again.
While talking to Madeline, Jane said she would kill Saxon Banks if she could. Trying to be a good friend — or perhaps just get involved in yet another person's business — Madeline set out to find Banks. What she found was a man named Saxon Baker. Madeline figures he would use a fake name. Along with Celeste, Madeline showed him to Jane. She said she doesn't remember much about his appearance, but "I could still remember his voice. I can also remember his disgusting smell."
Jane found out that Baker lives in San Luis Obispo. She doesn't answer Madeline when she asks if she's going to go, but we do see gunshots flair. Will Jane go and confront Banks — Baker? Will she go through with her threat and kill him? Jane's life seems controlled by him to this day and, as a sufferer of PTSD, she can't seem to get away from him no matter where she lives. Perhaps Jane will take it upon herself to go to San Luis Obispo... but there are other possibilities as well. Maybe both Jane and Banks are the players in the Trivia Night murder. Whatever happens, we know the plot between the two is still unraveling. Jane may have moved, but she may have ended up closer to Banks than ever.