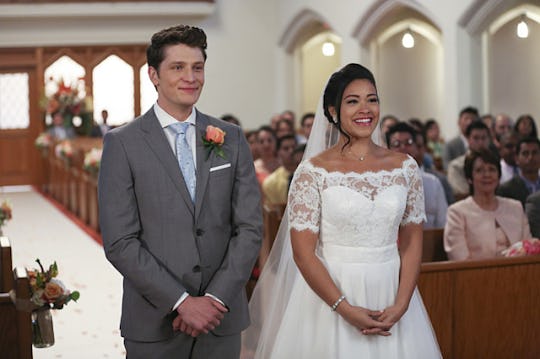 CW
Will Jane & Michael Have Sex On 'Jane The Virgin'? The Time May Have Finally Come
The title of the show is Jane the Virgin, but none of us really expected Jane to stay a virgin for this long. Finally, it now seems as though Jane and Michael will have sex on Jane the Virgin, unless something else gets in their way. At the start of Monday's night episode, it looked like Jane and Michael were finally ready to consummate their marriage. Michael was being released from the hospital and Jane...well she was ready to drop her virgin status. Unfortunately, nothing comes easy when it comes to Jane's virginity and Michael was sentenced to six weeks of bedrest, which meant no intimacy for the newlyweds.
The unfairness of the situation was not lost on Jane and Rafael when the discussed the fact that Jane is now a married virgin with a one-year-old son. Still, Jane and Michael were handling it pretty well, although it was clear the both of them really just wanted to do it already. Thankfully, by the end of the episode Michael had another doctor's appointment where his doctor informed him that he could go back to doing regular activities. Not wanting to jump the gun again, Jane asked the question we all wanted to know the answer to: "Sex? Can we have sex?"
Though the doctor was a little shocked by the question, he gave Michael and Jane a resounding yes and off the two went, not wanting to waste anymore precious time. However, when it comes to losing her virginity, it seems it's always easier said than done for Jane, and based on the preview for the next episode it looks like there will still be obstacles in her way. Figuring they probably wouldn't be able to be alone at Jane's house, Michael and Jane made their way over to their own home to do the deed. But as luck would have it, Rogelio is already there waiting for them with a crew even though he "wasn't supposed to be there until 2p.m." Poor Jane and Michael.
Don't worry though, the sex is definitely going down next week. Jane the Virgin's executive producer Jennie Urman told TVLine the next episode is the episode, so make sure to tune in next week. You won't want to miss this!