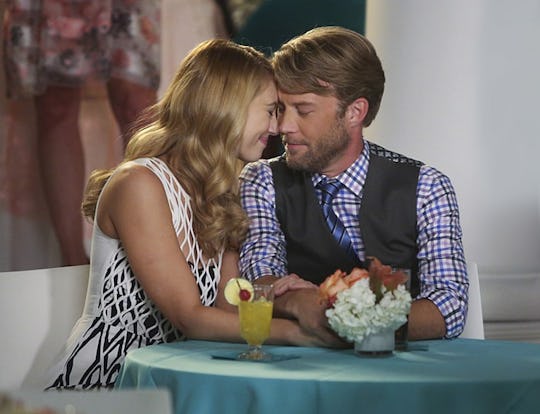 The CW
Will Jane & Rafael Save Petra On 'Jane The Virgin'? Anezka's Secret Is Out
Since the start of Jane the Virgin Season 3, fans had to painfully watch as Anezka took over Petra's life and basically ruin it. Anezka has been impersonating Petra sine the Season 2 finale and no one has been the wiser. While Anezka plays Petra, the real Petra is stuck in a comatose-like state where she can't move, but unfortunately is very aware about what's going on around her. Fans have been anxiously waiting for someone to realize that Anezka isn't actually Petra and last week it seemed Jane had finally put two and two together. So will Jane and Rafael save Petra on Jane the Virgin? There's a very good chance.
On last week's episode, Rafael became suspicious about what was going on with Petra, but came to the wrong conclusion. He assumed Scott was blackmailing Petra and that's why they were dating now and Petra was acting so strange. Unfortunately, Jane tried to get down to the bottom of it by asking Petra (Anezka) straight out what the deal was between the two of them, and Anezka was deeply offended, as was Scott. Feeling like she'd only made a mess out of an already precarious situation, Jane later tried to apologize to Anezka/Petra, but she was in the middle of trying to fend off her mother's friend who was threatening to reveal Anezka's secret if she didn't get the money to save Magda soon. Thus Anezka and Jane ended up in all-out girl fight in the pool with Jane declaring she was officially done with Petra, breaking every Jane/Petra shipper's heart.
But thankfully this falling out led to Anezka trying to make a big move by blackmailing Rafael into selling not only her shares of the Marbella, but also his own. When leaving his office, Anezka was so distracted she didn't even notice Jane in the hallway and yelped in the classic way Anezka always had — and that's finally when it clicked. Going into Rafael's office Jane revealed that she didn't believe "Petra" was actually Petra.
And while the preview for Monday night's episode doesn't give anything away in regards to what Jane and Rafael's plan will be now that they've uncovered the truth about Petra and Anezka, it seems unlikely they won't try to do something in the next episode to get to the bottom of all this. Here's hoping they can finally save Petra from this nightmare she's been living in and get her back at the Marbella where she belongs.