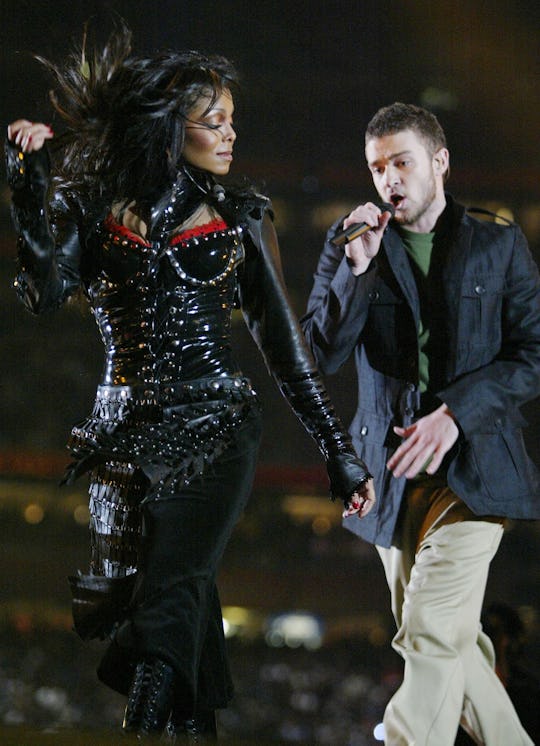 Frank Micelotta/Getty Images Entertainment/Getty Images
Justin Timberlake Has Finally Addressed Whether Janet Jackson Will Be At The 2018 Super Bowl
Justin Timberlake is taking on the Super Bowl as a halftime performer for the third time this year and fans may be wondering if Janet Jackson will also be at the Super Bowl. It's been 14 years since Jackson and Timberlake caused a stir with their controversial halftime show together and it's very unlikely that Jackson would return to the stage with Timberlake after all these years. In fact, Timberlake confirmed over the weekend that Jackson won't be joining him on stage this Sunday.
When asked if Jackson or *NSYNC would make an appearance at the 2018 Super Bowl halftime show with him, according to Billboard, he said, "Uhh, well, no." That was to be expected since Jackson was not scheduled to perform either, as Us Weekly reported. Still, people were definitely curious if the Jackson, 51, and Timberlake, 36, would make epic comeback after the "nipplegate" incident dominated headlines back in 2004. For those of you in the dark, Timberlake appeared as a guest performer during Jackson's halftime set and, at the end of Timberlake's song "Rock Your Body," the lyrics stated, "I bet I'll have you naked by the end of this song." As he sang the final lyric, Timberlake reached over to Jackson's chest and removed a piece of her costume, exposing her breast, which was adorned with a nipple shield.
The incident was only shown for about a second on television, but that was long enough to cause a major uproar, according to TIME, since it was considered to be nudity on cable television.
Many thought the incident appeared to be a pre-planned publicity stunt, though Jackson and Timberlake called it a "wardrobe malfunction" during the aftermath. At the time, Timberlake issued a public apology and spoke about the incident a week later in his speech at the 2004 Grammy Awards, according to Newsweek. "Listen, I know it's been a rough week on everybody," he said at the Grammys, as Newsweek reported. "What occurred was unintentional, completely regrettable, and I apologize if you guys were offended.
Newsweek also reported that Jackson received much of the blame, though she issued a formal apology as well. According to CNN, Jackson's statement read:
The decision to have a costume reveal at the end of my halftime show performance was made after final rehearsals. MTV was completely unaware of it. It was not my intention that it go as far as it did. I apologize to anyone offended -- including the audience, MTV, CBS and the NFL
The incident resulted in CBS having to pay a $550,000 fine to the FCC, as reported by CNN.
Three years after "nipplegate" occurred, in 2007, Timberlake told MTV he should have better defended Jackson during the Super Bowl scandal. "In my honest opinion now ... I could've handled it better ... I probably got 10 percent of the blame, and that says something about society," he said, according to HuffPost. "I think that America's harsher on women. And I think that America is, you know, unfairly harsh on ethnic people."
In a recent interview with Beats 1, reported by Variety, Timberlake revealed that he didn't handle the situation in the best way. At the time, Timberlake was just 22 years old and had broken away from his boy band *NSYNC, according to ABC News. According to Variety, Timberlake told Beats 1 earlier this month:
I had my wires crossed. And it's just something that you have to look back on and go like, "Ok, well you know, you can't change what's happened, but you can move forward and learn from it."
With Timberlake being cast as the headliner for this year's Super Bowl, fans had been voicing their opinions online, saying that Jackson should appear with Timberlake for a second chance. The hashtag #JusticeForJanet has erupted on Twitter, according to Entertainment Weekly.
In 2004, when Jackson and Timberlake appeared as performers for the Super Bowl halftime show, Jackson was the headliner and Timberlake was her guest artist. Although fans thought it might have been a possibility for the roles to be reversed, Timberlake has set the record straight.
Check out Romper's new video series, Romper's Doula Diaries:
Watch full episodes of Romper's Doula Diaries on Facebook Watch.