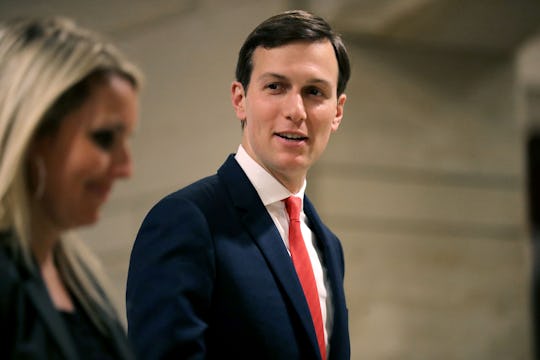 Chip Somodevilla/Getty Images News/Getty Images
Jared Kushner Could Reportedly Be Indicted & People Are Losing It
The end of the year might be getting nearer but that doesn't mean that 2017 doesn't have more surprises in store. On Friday, people woke up to find out that former Trump advisor, Michael Flynn, had been arrested and pleaded guilty to a charge of making false statements to the FBI. But by Friday night, even more details had emerged, like that a "very senior member of the presidential transition team," who some think is Jared Kushner, urged Flynn to contact Russia. And now, many are wondering if Jared Kushner will be indicted on charges related to the investigation. Unfortunately, it is too early to say. (Romper has reached out to a representative for Kushner and has not heard an immediate response).
On Friday afternoon, according to NBC News, Special Counsel Robert Mueller released the statement of offense for Michael Flynn and his charges for lying to the FBI. But in that statement were new details that could point to where the investigation goes within due time.
The documented stated, according to NBC News, that Flynn contacted Russia about a United Nations resolution: "On or about Dec. 22, 2016, a very senior member of the presidential transition team directed Flynn to contact officials from foreign governments, including Russia, to learn where each government stood on the resolution and to influence those governments to delay the vote or defeat the resolution."
According to NBC News, "three people familiar with the matter" said that the official in question was reportedly Jared Kushner, senior advisor to Trump and his son-in-law. People on Twitter seemed to agree, taking to the website to share their reactions to the news and their intel about the news.
The problem with the court documents is that Kushner isn't actually mentioned by name. Until he is and charges are brought against him, then there is no way to know for sure if he will be indicted. Trump's attorney told NBC News that there was "nothing about the guilty plea or the charge implicates anyone other than Mr. Flynn" — which is very true.
But here is what you need to know about his reported involvement into the investigation so far. As previously stated, it is reported that Kushner allegedly influenced Flynn to contact the Russian ambassador to the United States about the UN vote on Israeli settlements while Obama was still in office. But someone familiar with the transition, however, told CNN that this UN vote was a "well known" and "collaborative" effort by multiple transition officials. This was one account among many listed in the court documents about attempts to contact Russia by campaign officials.
Flynn told the FBI that he never asked Russia's ambassador to delay the vote, according to MSN, thus the reason for Flynn's indictment. This not illegal, according to Vanity Fair, but it is illegal for a citizen to "undermine the foreign policy of a sitting president through contact with a foreign power." Flynn's plea represents the first time that Mueller's investigation has "penetrated Trump's inner circle," according to USA Today.
Kushner, meanwhile, has already met with Mueller's team earlier this month, according to CNN. And Kushner's lawyer told CNN on Wednesday that he has cooperated voluntarily and will continue to do so.
Flynn pleading guilty means that he will cooperate with the government and investigators, according to CNN, meaning that more details could emerge in the upcoming weeks. But those details, if any, are unknown and according to Vanity Fair, it really is too early to tell. Kushner's involvement, if he was involved at all, is one of those things. Only time will tell. But one thing is certain — Flynn's plea has opened the doors to new developments.