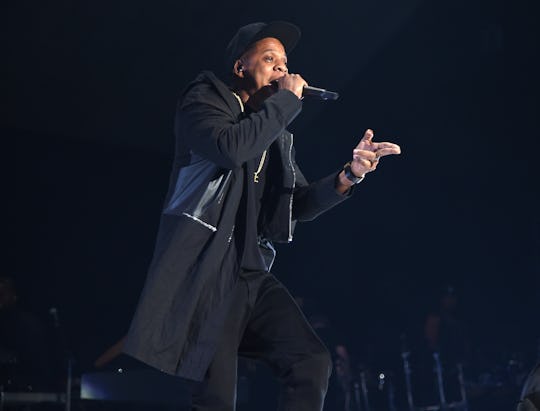 Jamie McCarthy/Getty Images
Will Jay Z Be Performing At The Super Bowl? He'd Be Joining One Star-Studded Roster
The Super Bowl 50 halftime show is already slated to be one crowded stage, but if the continuous stream of surprising announcements keeps up, it could get even bigger. After news broke earlier this month that both Beyonce and Bruno Mars would be joining Coldplay on stage at the annual sports pilgrimage, rumors began swirling. Would Jay Z be performing at the Super Bowl as well?
It's a possibility. Both Jay and wife Beyonce are both reportedly close friends with Coldplay frontman Chris Martin — more importantly, it wouldn't be the first time the two men have collaborated on a piece together. At the 2009 Grammys, Martin and Jay performed the Coldplay single "Lost!" to great acclaim, releasing the performance shortly after as a special edition single. In the Nov. 29, 2008 issue of Billboard magazine, one reviewer referred to the single as "a gloomy instrumentation with a series of drums and claps that perfectly fits the lyrical content of the song and makes the transition from Martin's singing to Jay's rapping seem effortless." Critics and fans alike agreed that the song was a momentous performance for both artists.
Of course, that's all in the past. Whether Jay will actually take the stage at next week's Super Bowl is still up in the air.
Technically speaking, while a Jay Z cameo would provide the network and its sponsors a flurry of traffic, it could also prove chaotic for the likely overwhelmed production team in charge of overseeing the rabidly popular halftime show. At a star-studded roster of three famous faces already, adding in yet another big name could prove to be a logistical nightmare.
That's not to say it wouldn't be worth it in the end, though. Remember 2013's mammoth Beyonce/Destiny's Child halftime medley? According to The Huffington Post and Nielsen numbers, the nostalgic throwback earned an average of 104 million viewers. And if you thought that was high, consider that pop icon Madonna's performance just one year earlier (which featured a troupe of cameos by Nicki Minaj, M.I.A., LMFAO and Cee-Lo Green) topped even that, bringing in a whopping 112.5 million viewers on average.
I suppose at this juncture, the question should really be whether Jay should or shouldn't turn up to the Super Bowl 50 halftime show, all things considered. Other than that amazing Paul McCartney performance at Super Bowl XXXIX (that's 39, for those of you who didn't pay attention in school) in 2005, networks have always fared incredibly well when they stack the deck with a bevy of entertainers, rather than simply keeping the majority of the attention on a single musician or band.
Hopefully, the powers that be will take all of those numbers and statistics to heart. If we're very lucky (and if we cross our fingers hard enough) we might just get that Beyonce/Coldplay/Bruno Mars/Jay Z surprise everyone's been waiting for.