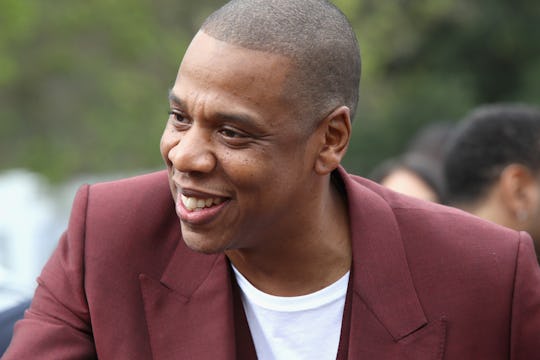 Ari Perilstein/Getty Images Entertainment/Getty Images
Will JAY-Z Tour For '4:44'?
Rapper JAY-Z's new album, 4:44, was officially announced recently through a tweet, according to Forbes. Because when you're a well-known rap artist, you don't necessarily need much more publicity than that to go public about your next project. But what a lot of artists often do to promote their projects is go on tour. So, will JAY-Z tour for 4:44? People still have a lot of questions about his new album, and that's one of them.
According to Forbes, the album's release, on June 30 will come just a few months after Sprint invested $200 million in Tidal, JAY-Z's streaming service. Newsweek reported that the official announcement came on Monday, following more than a month of speculation. That "speculation," according to the publication, included "cryptic billboards reading '4:44'" popping up in major cities worldwide, and a trailer that played during Game 3 of the NBA finals on June 7.
As the public has been teased with these hints, the excitement about a possible album from JAY-Z — who last released one in 2013, according to Newsweek — has been building. And even with the official announcement, fans don't have many details about 4:44 just yet.
According to Pop Crush, anyone who has Sprint service will qualify for a six-month membership in Tidal HiFi, which will allow them to stream the new album free from their mobile devices. So fans with that cell phone service have a slight advantage over those who don't when it comes to getting their hands on JAY-Z's new album.
And current Tidal subscription members will of course have access to the album as well, according to Pop Crush. Clearly, JAY-Z is trying to make having a subscription to the streaming service — either along with your cell phone service or as a stand-alone offering — a very attractive prospect for fans interested in hearing his new music as soon as possible.
A short teaser trailer for one of the album's tracks, "Adnis," was released on Monday, and it contains a quick snippet of the song, as well as appearances by actors Lupita Nyong'o, Mahershala Ali, and Danny Glover, according to LemonWire. If that's just what the teaser includes, imagine what the rest of the mysterious visual element of the project could look like.
But what exactly is 4:44 about? And will JAY-Z be going on tour to promote the project or not? His fans really want to know, and many would probably shell out a lot of money to see the rapper live and in-person that way.
Newsweek speculated that the title of the album could be in reference to Barack Obama, the 44th president, whom JAY-Z and his wife, singer Beyoncé, appear to be friends with. The article suggested that 4:44 might "touch on themes of police brutality (as Beyoncé did on Lemonade)," or on other social or political issues.
But no one is 100 percent sure what 4:44 will be about, except maybe those closest to the project — and, of course, JAY-Z himself.
And as far as a tour goes, LemonWire reported that JAY-Z is performing this summer, but no tour dates have been confirmed other than his appearances at his own music festival Made in America, and the festivals Meadows and Austin City Limits.
But he might be a little busy, and could put off touring for awhile. As Complex pointed out, the rapper recently became a father of three, so that will keep his hands full for a bit. Plus, on Thursday, he was the first rapper inducted into the Songwriters Hall of Fame, according to Cleveland.com. So he does have a lot of other stuff going on in his life.
For now, JAY-Z might let his work speak for itself, and hold off on touring. Or he might surprise fans tomorrow and say he's going on an epic tour for the next six months. In fact, HotNewHipHop reported that JAY-Z will "likely take the album on a lucrative world tour" to promote 4:44. But it's really anyone's guess at this point.
All fans can do is hold out and pray that, if tickets for a tour do go on sale, they don't sell out within a matter of hours.