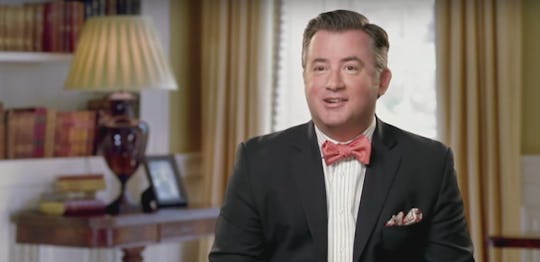 Bravo/YouTube
Will J.D. & Elizabeth Get A Divorce? The 'Southern Charm' Duo Has Been Through A Lot
Every reality show needs a villain and on this season of Southern Charm, it might be J.D. Madison. In the first few episodes of the season, he was confronted by many of the ladies — commandeered by Naomie — for reportedly cheating on his wife, Elizabeth. For now their marriage seems to be hanging in the balance. So will J.D. and Elizabeth get a divorce? Or what's going on with them anyway?
In the first episodes, J.D. was berated by Naomie at Shep's dinner party for making Elizabeth's life a living hell. According to Naomie and Kathryn, their BFF would call them crying after fights with J.D. and alleged that he was staying out too late, sleeping with young women, and partying too much. J.D. felt very attacked and denied that the problems in his marriage were all his fault. He tweeted after the episode aired, "I went to dinner to celebrate a friend's birthday and found out I was the dinner! It was an ambush!"
He also tweeted, "Hard episode to watch. Thank you for being a good friend, Elizabeth. I'm glad none of this BS came from you. Good thing I got there late, or it would have been me on the grill! Lord help me!"
As if to prove a point after that doomed dinner party, he and Elizabeth showed up to Cameran's baby shower together and Elizabeth even scolded Naomie for speaking on her behalf. So it's hard to know who to believe or what's really going on. But J.D. isn't exactly winning fans over at the moment, although he has been consistently defending himself on Twitter.
However, J.D. hasn't denied that there have been problems in his relationship. Although he felt "ambushed" by the women at Shep's and tweeted that the network didn't show enough of the good sides of his marriage, things were definitely not going great when they started filming last fall.
In the first episode of the season, J.D. told Thomas:
Technically, we've been separated for a couple months now. I don't like to talk about it much until I know what we're doing, but being in a situation where a large amount of stress hit our family, a lot of the differences that we had became very apparent, and I didn't feel the support that I should have.
Despite his protests and Elizabeth having his back for a minute, the couple did officially confirm that they were separated in April, just weeks before Season 5 aired. Those episodes were filmed in the fall (Shep's birthday is Sept. 27, so it was sometime around then that Naomie called J.D. out), which means that the couple has been working hard to work things out since then. That has to be difficult.
Since then, J.D. and Elizabeth have both publicly confirmed their separation, but not divorce, although it's unclear if those terms are being used interchangeably, since Elizabeth's statements seem to imply that it's really over. Elizabeth said in a statement to the The Daily Dish:
The differences in personality and the arguing that came from those differences morphed our beautiful relationship into something toxic. I was deeply saddened by how far we had fallen as a married couple, and at the time, I felt we had both done everything we could to make it work. Our differences had caught up to us, and although it was difficult, we made the decision to separate.
The again, J.D. took to social media in March to assure fans that a divorce was not happening. "Liz & I have a great relationship. The rumors about divorce are just ridiculous," he tweeted. "We are separated & doing what is best for our family." Elizabeth maintains that Naomie took some private details and whipped them into a story, which could very well be the case. J.D. has had some pretty big business and financial troubles this last year, as reported by the Charleston City Paper. Those kind of setbacks can really take a toll on a relationship.
Whatever went down, the couple is definitely not living together anymore. But whether they're divorcing completely or just taking a break is something we will all have to wait to find out.