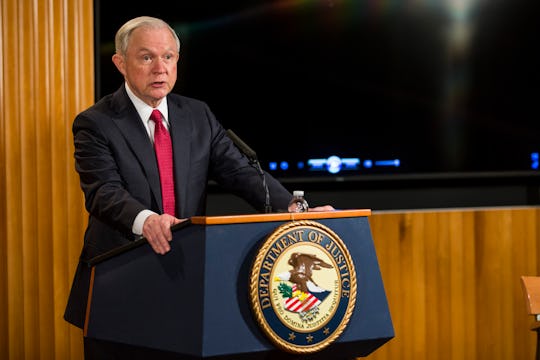 Zach Gibson/Getty Images News/Getty Images
Many Are Calling For Jeff Sessions' Resignation
Less than three weeks after the resignation of former National Security Adviser Michael Flynn, word has come out the the Attorney General also failed to disclose contact with Russia during the 2016 presidential campaign. Will Jeff Sessions resign his post, as well? Democratic legislators are saying that his testimony at his confirmation hearing, during which he denied any knowledge of contact between Russia and the Trump campaign, amounts to perjury. The Department of Justice and the White House did not immediately respond to Romper's request for comment.
Massachusetts Sen. Elizabeth Warren fired off a series of tweets on Wednesday night calling for Sessions to step down. "We need Attorney General Jeff Sessions – who should have never been confirmed in the first place – to resign. We need it now." CNN has reported that House Minority Leader Nancy Pelosi also called for Sessions' resignation, saying that he's "not fit to serve as the top law enforcement officer of our country."
As attorney general, Sessions is in charge of the FBI, which is currently investigating the links between Russia, the Trump campaign, and the election. Minnesota Sen. Al Franken said, "It's clearer than ever now that the attorney general cannot, in good faith, oversee an investigation at the Department of Justice and the FBI of the Trump-Russia connection, and he must recuse himself immediately."
During the Jan. 10 hearing, Franken asked Sessions, "If there was any evidence that anyone affiliated with the Trump campaign communicated with the Russian government in the course of this campaign, what would you do?" Sessions replied, "I'm not aware of any of those activities. I have been called a surrogate at a time or two in that campaign and I did not have communications with the Russians." But on Wednesday night, the Washington Post reported that Sessions spoke to Russian Ambassador Sergey Kislyak in July and again in September. If that name sounds familiar, it's because he's the same Russian official that Flynn reportedly communicated with.
Sessions spokesperson Sarah Isgur Flores told the Post that "There was absolutely nothing misleading about his answer," because Sessions' meetings with Kisylak were in his capacity as a senator and member of the Armed Services Committee, not in regards to the campaign. In a statement tweeted by Isgur Flores, Sessions said, "I never met with any Russian officials to discuss issues of the campaign. I have no idea what this allegation is about. It is false." Is meeting with the Russian ambassador commonplace for members of the Armed Services Committee? The Post contacted all 26 members to ask if they met with Kislyak last year, and the 20 who responded all said no. A growing number of Republican lawmakers are now calling for Sessions to recuse himself from the Russia investigations. Asked by NBC News if he would do so, Sessions gave the midding answer, "I have said whenever it's appropriate, I will recuse myself." For many, that's not good enough.