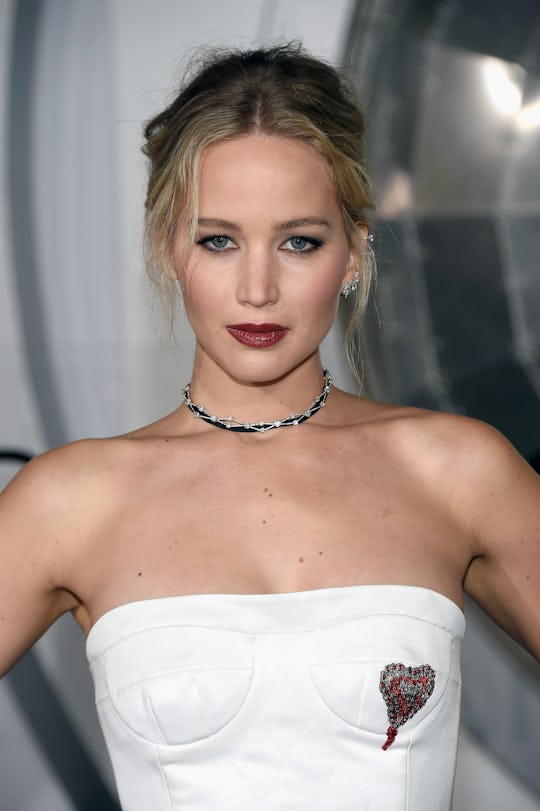 Matt Winkelmeyer/Getty Images Entertainment/Getty Images
Jennifer Lawrence May Attend The People's Choice
It's almost time for the people's voices to be heard. The 2017 People's Choice Awards are just around the corner and the big night will include performances and appearances from some of the biggest names in Hollywood, including Joel McHale, who's hosting the event, Fifth Harmony, Robert Downey Jr., Blake Shelton, and Victoria Justice. Although the red carpet for the event will surely be star-studded many fans are wondering if Jennifer Lawrence will be at the 2017 People's Choice Awards. Unfortunately, there's no way to really know.
This year Lawrence is nominated for two People's Choice Awards in the cateogries for Favorite Movie Actress and Favorite Action Movie Actress. Both of the nominations are for her role in X-Men: Apocalypse as Raven Darkhölme/Mystique. JLaw won these same two awards in 2015 for the same role in X-Men: Days of Future Past and many are expecting her to win again this year. However, even though she won in 2015, the 26-year-old actress didn't actually appear at the awards show to get her awards and it seems fair to assume she won't be there this year either.
Lawrence skipped out on the Golden Globes this year, to many viewers' disappointment, and it seems highly unlikely that she'll make a showing at the PCAs. To be fair though, she's been busy. At the end of the year she was flying to different countries to promote her new film Passengers, alongside her costar Chris Pratt. She's also currently filming her new thriller movie, Red Sparrow, which is due out later this year.
The last time Lawrence actually appeared at the PCAs was back when she won for the first time. She walked away with three awards that night for her role as Katniss Everdeen in The Hunger Games, one of which she shared with Josh Hutcherson for Favorite On-Screen Chemistry. Since then, Lawrence hasn't been spotted at the PCAs and she's been sorely missed.
Her down-to-earth personality, awkwardness, and tendency to do something GIF-worthy is just a few of the many reasons why fans love her. She's always at her best at award shows and tends to bring the funny, whether she means to or not. Hopefully J-Law makes an appearance this year, but truthfully it seems unlikely. But don't let that stop you from tuning it since it's sure to be an unforgettable night regardless.
The 2017 People's Choice Awards airs this Wednesday, Jan. 18 at 9 p.m. ET.