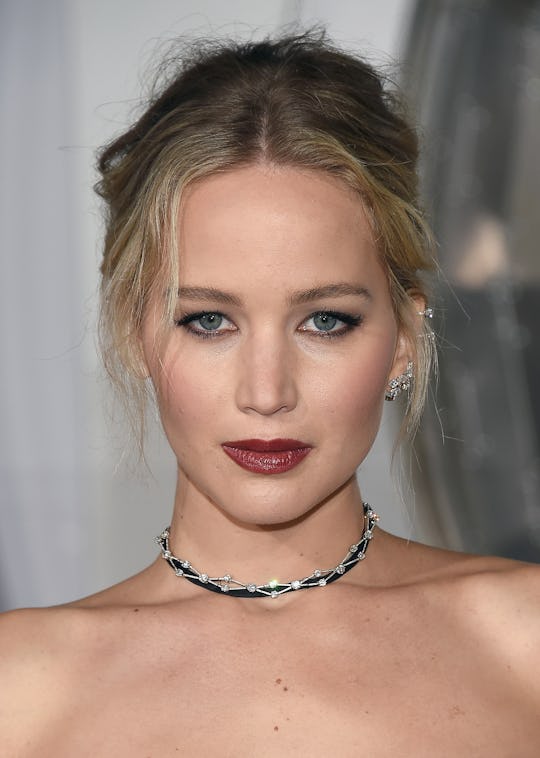 Matt Winkelmeyer/Getty Images Entertainment/Getty Images
Jennifer Lawrence May Be MIA At The SAG Awards
When it comes to awards shows, there's always those fan favorites that viewers can't wait to see and Jennifer Lawrence is most certainly one of those celebs. However, this season it seems Lawrence is taking a little breather from the red carpet life. So will Jennifer Lawrence be at the 2017 SAG Awards? Unfortunately, it seems unlikely. So far this season she hasn't made it to an awards show and this year she isn't up for a SAG award. Additionally, she's not on the list of presenters, so unless Lawrence is planning on making a surprise appearance, fans shouldn't expect to see her, which is unfortunate because she's always great at these kind of events.
From her infamous falls to the very relatable answers she gives to questions on the red carpet (like asking if there will be food), Lawrence has become a fan favorite. No one will ever forget when she photobombed Taylor Swift during an interview on the red carpet for the Golden Globes. Then there was her first major fall when she was going to receive her Oscar back in 2014 and then again on the red carpet at the 2015 Oscars when she also reached for some poor unsuspecting woman, almost dragging her down as she fell. One of my favorite moments was when she and Amy Schumer were presenters together during the 2016 Golden Globes. I'm still impatiently waiting for their film, by the way.
Year after year Lawrence has proved she can bring the fun to any awards show, which is why she's been thoroughly missed this year. However, as much as I'd love to see her at the SAG Awards, I just don't think it's in the cards this time around. That being said, there are still plenty of other amazing stars that will be in attendance. Emma Stone, who's had her own share of awkward moments at awards shows, will most likely be there since she's nominated for her role in La La Land. The Stranger Things kids will definitely be in attendance since they're presenting this year, and they're always fun to see.
Other actors fans can expect to show up are Viola Davis, Ellie Kemper, Anthony Anderson, Denzel Washington, Meryl Streep, Ryan Gosling, Octavia Spencer, Ty Burrell, Kerry Washington, and so many others.
You can see all the stars align during the SAG Awards starting at 8 p.m. on Sunday, Jan. 29 on TBS or TNT.