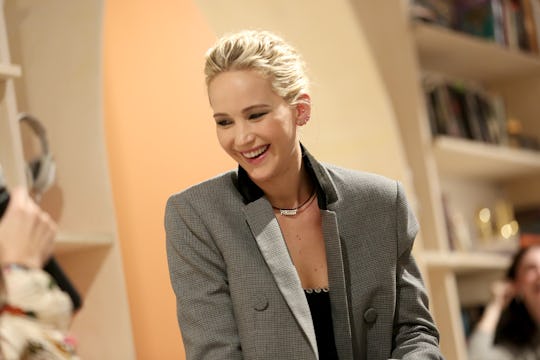 Monica Schipper/Getty Images Entertainment/Getty Images
Here's Why You Shouldn't Expect To See Jennifer Lawrence At The Oscars This Year
There are a lot of things to look forward to with regards to the annual Academy Awards. Personally, I look forward to seeing if Jennifer Lawrence will do something relatable and charming, like trip on her way up the stage or interrupt an interview to make a silly face or long for french fries. So will Jennifer Lawrence be at the 2018 Oscars? As always, she's had a busy year making movies, but unfortunately this year she hasn't been nominated for anything at the awards. That doesn't necessarily mean that she won't be there, but it makes it far less likely.
Update: Lawrence will indeed be attending the 2018 Oscars. Along with Jodie Foster, she will replace Casey Affleck and present the Best Actress Oscar on Sunday night, as Variety reported, while Jane Fonda and Helen Mirren will present lead actor.
Earlier: Lawrence's big movie of 2017 was the horror flick, mother! also starring Javier Bardem and directed by Lawrence's ex-boyfriend Darren Aronofsky. The movie divided critics between those who thought it a work of genius and those who thought it overwrought and foundation-less. Whatever your opinions on the film, which has a 69 percent rating on Rotten Tomatoes, if you see it you'll notice that Lawrence carried the whole thing basically on her own. Most of the film lingers on Lawrence's face as she transitions from passive, to joyful, to troubled, to horrified, to furious. For this performance, many thought it possible that she'd be nominated for a Best Actress Oscar.
Lawrence has been an Academy Awards mainstay since her breakout performance in the 2010 indie, Winter's Bone, for which she received her first Oscars nomination. Since then, Lawrence has made Oscars history as the youngest person to ever be nominated for four Oscars. Unfortunately, though you can practically see her acting her butt off in mother! she didn't get a nod this time around. She did, however, receive a Razzy nomination, which awards the worst movies of a given year. I don't think she really deserves a Razzy, but I still wasn't a huge fan of mother!
There still could be ways for Lawrence to attend the ceremony even if she isn't nominated. Had mother! been nominated in another category, she would probably have attended the awards in support, or if she were still dating Aronofsky she might have gone as his date. Unfortunately, the film did not land a spot in any major category. But nominees and nominee-adjacent people are not the only ones who go to the Oscars.
Presenters at the awards are often not nominated for anything. Presenters at the Academy Awards are generally people who won a category the previous year, or actors who were a part of a buzzy movie that year. For the 2018 Oscars, presenters include Lupita Nyong'o, who stars in the recently released Black Panther, and Gal Gadot, the star of Wonder Woman, which was also shut out of the awards to many critics' chagrin. Though Lawrence and mother! did not receive any nominations, it wouldn't be out of the question for her to present an award. However, it doesn't look like that is the case this time around, based on the presenter lists currently making the rounds.
So it doesn't look like Lawrence will be at the ceremony, unless she goes to support a friend by surprise. But never fear, folks. If you're looking for your J-Law fix, she's currently on a press tour and has been opening up about everything from her dislike of 2018 Oscar heavyweight The Phantom Thread to how she still loves ex-boyfriend Aronofsky. And in any case, I think it's safe to say that she's hardly finished acting in Academy Award-worthy films. Maybe she'll make an appearance at the ceremony next year.
Check out Romper's new video series, Romper's Doula Diaries:
Watch full episodes of Romper's Doula Diaries on Facebook Watch.