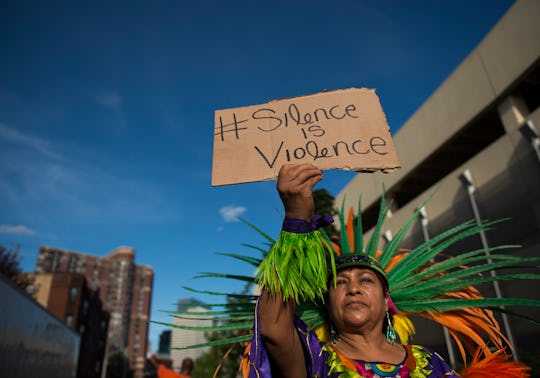 Stephen Maturen/Getty Images News/Getty Images
Will Jeronimo Yanez Go To Prison? He's Been Charged With Manslaughter
When 32-year-old Philando Castile was shot and killed during a traffic stop in Minnesota on July 6, video footage that his girlfriend, Diamond Reynolds, captured on her phone and streamed on Facebook Live helped thrust the case into the national spotlight. According to ABC News, Castile was pulled over by St. Anthony police officer Jeronimo Yanez, who shot him seven times after Castile reached into his pocket for his ID and disclosed he had a concealed weapon. Will Jeronimo Yanez go to prison? Ramsey County Attorney John Choi announced Wednesday that Yanez has been charged with second-degree manslaughter in the case, which carries a maximum prison sentence of 10 years. Yanez's representative, attorney Thomas Kelly, has not yet responded to Romper's request for comment.
The news of Castile's death caused outrage for many reasons: Castile had been calm and compliant, and had been upfront with disclosing his weapon, which he was allowed to carry and which he did not reach for. He was shot multiple times through his driver's side window, while his young daughter was in the backseat. And the reason he'd been pulled over in the first place, according to Yanez's attorney, Kelly, was because the officer "thought he looked like a possible match for an armed robbery suspect" — something Castile's family has argued was little more than racial profiling.
Reynolds has maintained that Castile told Yanez prior to the shooting that he was reaching for his ID, not his gun. According to CBS Minnesota, Choi told reporters in a news conference that Castile's "final words were, 'I was not reaching for it.'" After a 19-week investigation, Choi and his team determined that Yanez' use of deadly force was not justified:
Philando Castile was not resisting or fleeing. … He volunteered in good faith that he had a firearm, beyond what the law requires. Based upon our thorough and exhaustive review of the facts, I have come to the conclusion that there simply was no justification for the use of deadly force by Officer Yanez in this case. No reasonable officer who knew, saw and heard what Officer Yanez did at the time would have used deadly force under these circumstances.
In addition to manslaughter, Yanez has also been charged with with "two felony counts of dangerous discharge of a weapon," based on the fact that Reynolds and their daughter were also in the car at the time, and will appear in court for the first time on Friday afternoon, according to CBS. In August, The City of St. Anthony allowed Yanez to return to duty after being placed on administrative leave following Castile's death, according to The Minneapolis Star-Tribune, but local protests and outrage from community members led officials to reverse the decision.
According to The Washington Post, a criminal complaint filed with the Ramsey County District Court showed that Yanez fired his first shot at Castile less than a minute after pulling him over. In the complaint, Yanez claimed that he thought Castile was reaching for his gun, and explained, "At that point, I was scared and I was in fear for my life and my partner's life. And for the little girl in the back and the front seat passenger." Yanez' partner, Officer Joseph Kauser, was also placed on administrative leave, but will not face any charges after it was determined that he "did not touch or remove" his gun at any point during the incident.
Castile's death was considered by many to be yet another example of black men being targeted unfairly by police — something heightened by the fact that, only one day before, 37-year-old Alton Sterling had also been shot and killed by police officers while he was selling CDs outside of a convenience store, according to The Atlantic. One day later, at a protest in response to the shootings, a sniper killed five police officers in Dallas.
Choi told reporters that he met with Castile's family Tuesday night to inform them of the charges against Yanez, and said they were "generally supportive and accepting," according to CBS News. Castile was a cafeteria manager at a local school, where he was well-known and liked. After the shooting, Anna Garnaas, a teacher at the school, told The Washington Post, "He just loved the kids, and he always made sure that they had what they needed. He knew their names, he knew what they liked, he knew who had allergies. And they loved him."