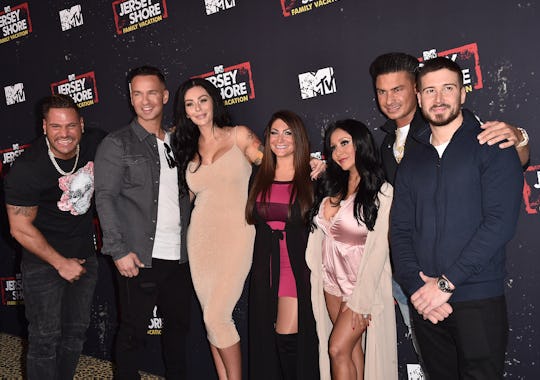 Alberto E. Rodriguez/Getty Images Entertainment/Getty Images
Here's The Scoop On 'Jersey Shore: Family Vacation' Season 2
Jersey Shore: Family Vacation, which rebooted one of MTV's most successful reality TV franchises of all time, premiered on April 5 bringing in a whopping 10 million viewers and, given its success, fans of the series may be wondering: will Jersey Shore: Family Vacation be back for Season 2? As a matter of fact, the show was greenlit for a second season before Season 1 even premiered.
Not only did MTV order a second season of the show well over a month before the first season aired, but the network also gave Jersey Shore: Family Vacation its first-ever global premiere, with the Season 1 opener airing at the exact same time and date across all MTV networks around the world. Considering how many global spin-offs the show has inspired in beach towns and trashy spring break locales around the world, it's not a stretch to believe that the whole world would want to tune back in to the original gang as they reunited nine years after first gracing our screens. While no premiere date has been set for the start of Season 2, the cast began filming earlier this month.
The most notable difference between Seasons 1 and 2 of Jersey Shore: Family Vacation will be the vacation destination itself. Season 1 filmed at a luxe mansion in Miami, but Season 2 is taking the party to Las Vegas. Like Season 1, MTV is housing the macaroni rascals in a rented property for their trip, and they'll travel back to New Jersey to wrap up the season on the beach that started it all. Notably, Vegas is already home to two of the cast members: Pauly D and Ron. The two cast dads will enjoy a bit of a staycation while the rest of the gang comes to their fair city for another family vacay. Most likely, we'll get to see Pauly and Ron take on the roles of city ambassadors on behalf of their crew, and the good news is, this keeps Ron close to his newborn daughter, Ariana Sky.
Of course, a pressing question weighing on the hearts and minds of fans is whether Sammi "Sweetheart" Giancola will ever return to the show. She was an original cast member for all six seasons of Jersey Shore, but declined to join the reboot, despite the urging of fans and her fellow cast mates.
"She's so happy that she didn't do the show," an unnamed source told Us Weekly back in May. "She's happy with her life and has moved on with her boyfriend [Christian Biscardi]. He's The One. They have a great life together and have their own business. She doesn't regret not going back on for a second."
Fellow cast member Nicole Polizzi confirmed this, saying in an interview with Bustle, "I don't think she'll come back — I think she's over it, in the show, so that sucks. But she's happy in her life right now. She doesn't want to get back into the mess of reality."
Honestly, opting out of the series seems like a good move for Sam. She suffered an extremely toxic, sometimes violent relationship on-air for six seasons, and given how often cast members talked about her and Ron on Jersey Shore: Family Vacation, she probably would have had to relive those traumas all over again had she participated. Furthermore, Ron revealed during an emotional, drunken bender that, even though he had a very pregnant girlfriend at home, he was still harboring feelings for Sam. Despite the show's best efforts to frame this as a romantic torch Ron continued to hold, the truth is that the relationship dynamic was super unhealthy and dragging everyone involved back into it for ratings would not have been good for anyone.