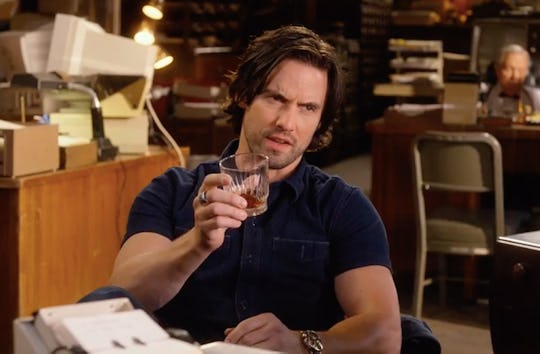 Netflix
Will Jess Return For The 'Gilmore Girls' Revival? Milo Ventimiglia Is Back In Stars Hollow
Unless you've been hiding under a rock for the last several months, you're probably aware of the fact that Gilmore Girls: A Year in the Life is gearing up to make its Netflix debut on Nov. 25, bringing back many of the beloved characters of the fictional town everyone wishes they lived in — Stars Hollow. Fans are eager to delve back into the junk food-crazed, coffee drinking-obsessed world, but before that happens let me assure you of one thing. Everyone's favorite bad boy, Jess Mariano, will be returning for the Gilmore Girls revival. So let's all take a moment to breathe a collective sigh of relief.
Out of all of Rory's former flames, Jess has widely become a favorite among viewers, so when Milo Ventimiglia confirmed he was coming back to reprise the role, fans were obviously thrilled. And that enthusiasm reached a new high when the official Gilmore Girls revival trailer was released and showed Jess (along with his luscious locks) sharing a scene with Rory. Suddenly, theories started spreading like wildfire. Does this mean they'll get back together? Are they both living in Stars Hollow? Are they drinking in the middle of their workday? (No judgements from over here!)
Sadly, we won't know anything for sure until the episodes get released, but it's enough to send our excitement into overdrive.
For his part, Ventimiglia is psyched to see a new generation of fans become familiar with the Gilmore Girls universe. "It's a timeless show," he recently told Entertainment Weekly in an interview. "It's something that people will appreciate for a very long time. And to see new fans that are younger than the age of the original fans, you know, it's exciting." So when the call came asking for him to return to Stars Hollow, he didn't hesitate in saying yes. And for that, fans will be forever grateful.
It's difficult to say how many episodes Jess will be featured in as well as how his storyline will develop throughout the four, 90-minute episodes. I'd like to think that it won't be just a quick pop in since it's always felt like Rory and Jess had unfinished business left to attend to — something that would take more than a 10-minute cameo to cover. But from the look of things in the trailer, Rory will be feeling somewhat lost in her current career aspirations and she's looking to Jess for advice. So one would assume, he'd be sticking around for a majority of the time to help her figure things out... and maybe get back together in the process? Please?
Either way, I think everyone can agree that any Jess is certainly better than no Jess at all. So regardless of how integral he may be to the revival's overall plot, I'll just be happy to see him up on my screen again.