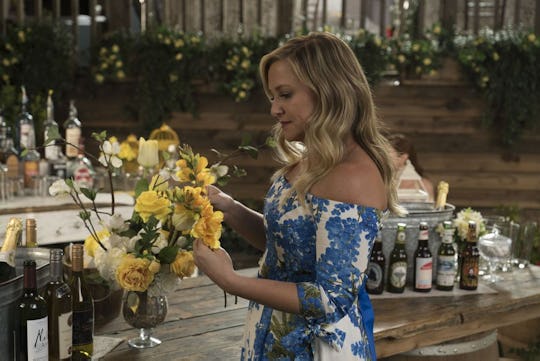 Eric McCandless/ABC
Jessica Capshaw's Time On 'Grey Anatomy' Is Coming To A Close, So Get Those Tissues Ready
The season finale of Grey's Anatomy is here and though it's always hard to say goodbye, at least fans can feel assured in knowing this isn't the actual end. The medical drama has already been renewed for Season 15. Still, not everyone on the cast will be returning next season, including a couple of fan favorites. So will Jessica Capshaw return for Grey's Anatomy Season 15?
Capshaw joined Grey's during Season 5 as pediatrics surgeon Dr. Arizona Robins. Arizona was an out and proud lesbian and was the first woman Callie Torres fell in love with. Though the couple ended up getting a divorce and Callie ultimately moved to New York with her girlfriend, Penny, Arizona has continued to be a fan favorite throughout the series and a great representative for the LGBTQ community. So fans were, of course, devastated when it was announced that Capshaw, along with Sarah Drew, wouldn't be returning to Grey's after Season 14.
The actresses contracts weren't renewed, which also made fans upset, because unlike other actors who have exited the series, it appeared it wasn't Capshaw or Drew's decision to leave. In a statement, reported by Deadline, showrunner Krista Vernoff said:
The characters of Arizona and April are permanently woven into the fabric of Grey's Anatomy thanks to the extraordinary work of Jessica Capshaw and Sarah Drew. As writers, our job is to follow the stories where they want to go and sometimes that means saying goodbye to characters we love.
So, unfortunately, it appears Arizona's story will truly come to an end after Season 14 and fans definitely shouldn't expect to see Capshaw in Season 15. That being said, since it doesn't look like Arizona will be killed off the show, the door will probably always be open for Arizona to come back for a quick cameo or two. However, if the writers feel that Arizona's story is done it seems unlikely that'll try to write her back in at some point, but you never know.
For now, though, fans should prepare to say goodbye to Capshaw. In the penultimate episode of the season, Dr. Herman, who taught Arizona fetal surgery, returned with a job offer. Herman received a grant and wants Arizona to help her start a center for women's health, aptly called Robbins-Herman Center for Women's Health.
Arizona, who already planned to move to New York City, so Sofia could be close to both of her mothers, asked Herman if the center could be in New York and Herman agreed. So while April's exit from the series is still unclear, Arizona is clearly moving to New York after Season 14. While it'll definitely be difficult to see her go, this is a much happier ending than how some other characters have exited the series. Plus, if you're still a Callie and Arizona shipper, let this move give you some hope that somehow these two will end up back together now that they'll be in the same time zone again.
Whether or not Callie and Arizona live happily ever after in New York or they just co-parent happily there, this is a truly fitting end for Arizona and I only wish that we could actually see these two reunited, even if it is just as friends. Unfortunately, since Sara Ramirez who plays Callie exited the series after Season 12, that seems very unlikely. Instead, we may not even see Arizona actually leave for New York.
To see Arizona on Grey's for the very last time, make sure to tune in for the Season 14 finale of Grey's Anatomy on Thursday, May 17 at 8 p.m. EST on ABC.