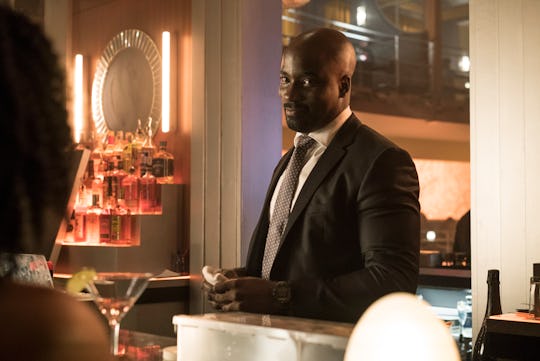 Myles Aronowitz/Netflix
Will Jessica Jones Be In 'Luke Cage'? She May Make An Apperance
It's almost time for the release of Netflix's latest Marvel show, Luke Cage, and fans can't wait. Following titular character, Luke Cage, who first appeared in Jessica Jones, fans will get to learn more about Cage's backstory and see what happens after the events of Jessica Jones. One question fans are begging to know is will Jessica Jones make an appearance in Luke Cage? Unfortunately, no one's willing to reveal this secret just yet. At the Luke Cage panel at Television Critics Association's press tour, executive producer Jeph Loeb would not address the potential crossover.
"I don't want to address that yet. I'd like people to experience the show," Loeb told Entertainment Weekly.
So it seems we won't know if Jessica Jones and Luke Cage reunite until the show premieres but it seems highly likely that Jones will appear at least once in the 13 episode season. Jessica and Luke had a tumultuous sexual relationship in Jessica Jones that began over they're shared special abilities and went sour when Jessica admitted she killed Luke's wife. After getting Claire Temple, who seems to be the go to nurse for all superheroes in New York City, to save Luke, he promptly disappeared from Jessica's life. Maybe Jessica pays him a visit in Luke Cage.
Whether or not Jessica does appear in Luke Cage, Claire will once again make an appearance. Starting in Daredevil it seems Claire is the string that connects all these Marvel shows. Maybe she'll be the one to bring all these superheroes together and get the ball rolling for The Defenders? Who knows? For now though, it looks like Luke finds a friend in Claire, and maybe even more than a friend. Although fans of the comics know that Jessica and Luke are meant to end up together it's also known that he dates Claire, at least for a little while. Whether or not their romance will be included in the show or if the show writers will just keep their relationship completely friendly remains to be seen.
Either way, they'll be at least one crossover in Luke Cage and we should probably expect a bit more. We'll know for sure who is and isn't in Luke Cage when the show premieres on Netflix Global on Sept. 30 at midnight PST.