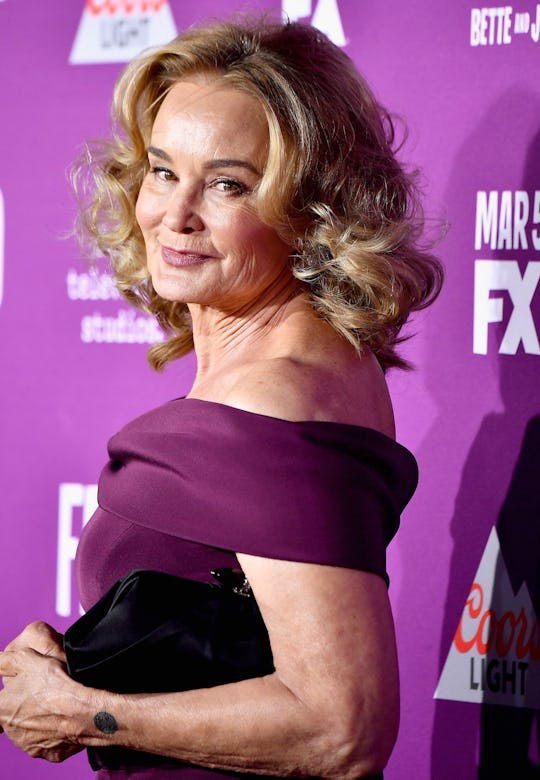 Frazer Harrison/Getty Images Entertainment/Getty Images
Jessica Lange May Continue To 'Feud' In Season 2
Ryan Murphy's latest FX project titled Feud — an anthologized miniseries focusing on the great pop cultural feuds of our time — was renewed for a second season just before Season 1 released. Given its incredibly high production value and sumptuous period details, it's no surprise that FX gave the go ahead without even waiting for the response to Season 1. Feud Season 2 will focus on the royal family through the 1980s and 1990s in an installment titled Feud: Charles & Diana. And given Murphy's affinity for recycling actresses in his anthologies, some fans may be wondering: will Jessica Lange return for Feud Season 2? No casting details have been announced yet, but here are a few ways it could go.
It seems obvious that longtime Murphy collaborator Sarah Paulson will take on the role of the project's titular princess, and Feud star Kathy Bates teased as much in a PaleyFest panel. When asked to "address the rumors," Paulson oh-so-convincingly joked, "I could play one of the corgis." What a skillful attempt at deflection!
As for Lange, her age helpfully narrows down the key players in the story whom she might tackle. Although she is about the same age as Camilla Parker Bowles — Prince Charles' current wife, Duchess of Cornwall, and his alleged mistress while he was married to Diana — most of the action in the series takes place 20-30 years ago, which pretty much ages her out of being able to play Parker Bowles at the time. It's possible that there may be some cuts to modern day, in which case, Lange could easily play her, although it would likely be a pretty limited role.
The more obvious choice is to cast Lange as Queen Elizabeth II. She was 70 when Princess Diana died, and Lange is currently in her late 60s, putting her in the perfect range to play the Queen over the course of the two decades during which Charles and Diana's feud unfolded. Plus, there's no way Murphy could resist casting Lange as the literal Queen of England.
After Charles & Diana, there are plans for at least one more season of Feud, but amidst the three additional seasons of American Crime Story already in the works (Katrina andVersace officially picked up, and Lewinsky being planned) as well as American Horror Story chugging along as usual, it may be awhile before we learn the subjects of Feud Season 3. Ryan Murphy has confirmed that Bette & Joan would be the only Hollywood feud he'd tackle, however, "because I don't think you can top Bette and Joan."
Can't argue with him there.