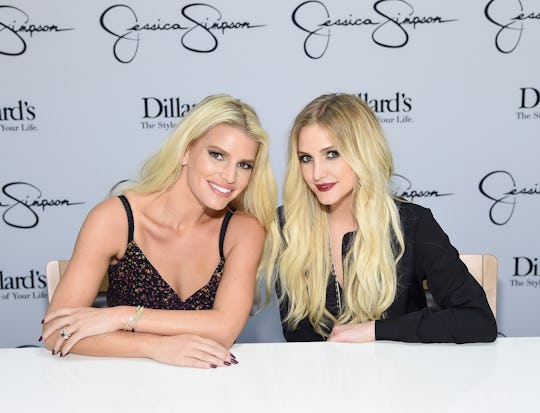 Jamie McCarthy/Getty Images Entertainment/Getty Images
Jessica Simpson Will Join Her Sister For A Big Moment On 'Ashlee + Evan'
Singer and actress Ashlee Simpson recently returned to TV with her new E! reality series Ashlee + Evan with husband Evan Ross. The show follows her life as a singer, wife, and mother to her two children — 9-year-old Bronx Wentz and 2-year-old Jagger Ross. The series is a family affair, so people are wondering if her famous sibling is going to make an appearance. So will Jessica Simpson be on Ashlee + Evan?
In an interview with E! News, Jessica discussed her excitement for the show, and revealed that she is making an appearance. "I'm on their show, definitely, a for a big moment, but really, the show is about their discovery in their music and in their relationship," she said. "It's very exciting. They're so cute together. I'm exciting for the world to see what I've already seen." Ashlee and Jessica have always been close and supportive of each other, so it's not surprising that she's joining the show for this mysterious "big moment."
But this isn't Jessica's first stint on reality TV. Before Ashlee started her career, her big sis had a reality show of her own called Newlyweds: Nick & Jessica, with her then husband, Nick Lachey. Maybe you remember it? The show spawned one of the most infamous pop culture moments when Jessica questioned her can of tuna. "Is this chicken, what I have, or is this fish?" she asked Lachey in a scene that has become a meme for the ages. "I know it's tuna but it says, 'Chicken By the Sea.' Is that stupid?"
But as adorable as the couple was together, things didn't work out. Their marriage ended in 2005, and as result, their reality series ended as well. Soon after, Jessica joined her sister on The Ashlee Simpson Show, a reality series based on Ashlee's budding career as a singer. Since then, Jessica has appeared as a guest on number of reality competition shows, including Dancing with the Stars, Project Runway, Fashion Star, and The Biggest Loser.
Ashlee + Evan will be Jessica's return to a family reality series, but she told E! News that she gets nervous about filming unscripted projects. "I mean, being on reality TV definitely makes me hyperventilate a little bit," she said. "I'm not one for being mic'ed up all day. I stick my foot in my mouth too much — [and] it makes me talked about." I wonder what she could be referring to.
But she's always been a good sport about the mix-up. On her Instagram page last year, Jessica posted a screenshot of an article reporting that Whole Foods chicken salad actually contained tuna. "It happens to the best of us @wholefoods," she captioned the post. In 2016, she retweeted a picture of a chicken swimming in the ocean that read "Maybe Jessica Simpson was onto something?" with the hashtag #Chickenofthesea.
But there is far more to Jessica than just her music or TV appearances. She is a mom to two kids — Maxi and Ace — and just revealed on Instagram that she is expecting a baby girl with husband Eric Johnson. "This little baby girl will make us a family of five, she captioned a gender reveal photo with her kids. "We couldn't be happier to announce this precious blessing of life."
Along with being a mom, wife, actress, and musician, Jessica has used her hard work and fame to create her own fashion empire, which includes clothing, shoes, accessories, and home essentials. According to CBS News, the Jessica Simpson Collection is a billion-dollar-a-year business that she runs with her mother, Tina, and it has become one of the most successful celebrity brands in the world.
With all the stuff going on in her life, Jessica took the time out to be with Ashlee on the series, and it just goes to show how much love there is between the sisters. There isn't an official date on when she will appear, so keep your eyes peeled for news and promos.
Ashlee + Evan airs on Sundays at 10 p.m. ET on E!.