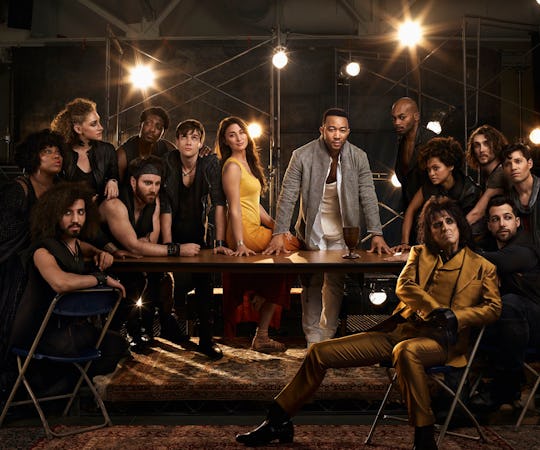 James Dimmock/NBC
Here's Why You Shouldn't Expect To Find 'Jesus Christ Superstar Live!' On Netflix
This Easter Sunday NBC is bringing viewers another musical production, this time in the form of Jesus Christ Superstar Live!. The ensemble is made up of an incredibly star-studded cast, proving that the new production of the 1970s rock opera will be a hit that people we want to watch again after it's done. But where can you watch it after it airs live? Will Jesus Christ Superstar Live! be on Netflix?
Unfortunately, this seems highly unlikely. After doing some digging, I noticed that it doesn't look like any of the past NBC live musicals have made their way to the streaming service, though FOX's Grease Live! did. So who knows — maybe NBC will do things a little differently this time around, but I wouldn't hold out hope. It's much more likely that you'll find Jesus Christ Superstar Live! on Hulu the day after it airs, which is exactly what happened with all of the network's other live musical productions.
However, don't expect Jesus Christ Superstar Live! to stay on the streaming site forever. Both The Wiz Live! and Hairspray Live! are now marked as "Unavailable" on the streaming website, which means at some point or another they were taken down. So unlike other NBC shows like This Is Us — which has every episode of the series available on Hulu — the live musicals only have a temporary life span, and it's hard to say how long that is. Therefore, if you want to stream Jesus Christ Superstar Live! I'd do so sooner rather than later.
Alternatively, you'll probably be able to find Jesus Christ Superstar Live! available on DVD or on iTunes soon after it airs, like the previous NBC live musicals. Thus, if you really want to watch it again and again, you definitely can. Or, if you're just in love with the music, you'll also be able to purchase the original soundtrack digitally on April 6 and on CD starting on April 20. And since there's no dialogue throughout the whole production, the soundtrack is really all you need. It's kind of like Hamilton in that way, although Jesus Christ Superstar technically came first.
If you're unfamiliar with Jesus Christ Superstar, the musical follows the last week of Jesus' life. Grammy-winner John Legend will step into the role of Jesus and Grammy nominee Sara Bareilles will act as Mary Magdalene alongside him. The musical was originally composed and written by Tony winners Andrew Lloyd Webber and Tim Rice, respectively. They both signed on as executive producers for Jesus Christ Superstar Live! so you know the show is in good hands.
Besides having these incredible masterminds working behind-the-scenes, the cast is incredibly talented. Working alongside Legend and Barielles are Alice Cooper as King Herod and Tony winner Brandon Victor Dixon as Judas. Also in the cast are Tony nominee Ben Daniels as Pontius Pilate, Tony nominee Norm Lewis as Caiaphas, Broadway veteran Jason Tam as Peter, M. Butterfly star Jin Has as Annas, and Swedish rock star Erik Gronwall as Simon Zaelotes. Honestly, if this cast doesn't make you want to tune in for the show, I don't know what will.
This may just be NBC's best live musical yet, and that's really saying something. Whether you've seen Jesus Christ Superstar before or have never even heard of it, you should definitely tune in to see what it's all about. Trust me, you don't want to miss this.
Jesus Christ Superstar Live! airs on April 1 at 8 p.m. EST on NBC.
Check out Romper's new video series, Romper's Doula Diaries:
Watch full episodes of Romper's Doula Diaries on Facebook Watch.