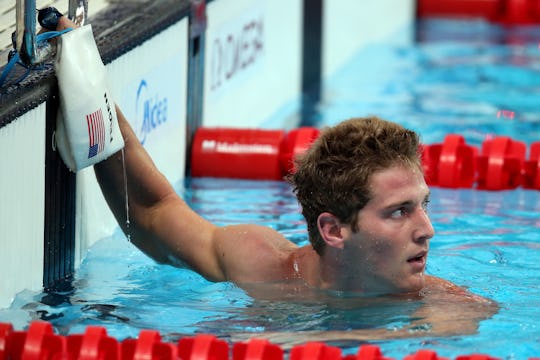 Streeter Lecka/Getty Images Sport/Getty Images
Will Jimmy Feigen Be Allowed To Compete Again? The Swimmer Will Likely Get Another Chance
The Olympics may be over, but the scandal over Ryan Lochte lying about being robbed at gunpoint lives on, with Speedo announcing Monday that it would drop its sponsorship of the swimmer. But though Lochte's name dominated the headlines about the incident, he was not the only one to act inappropriately, and many are wondering about the repercussions for the three other swimmers involved. For example, will Jimmy Feigen be allowed to compete again in future Olympics? Though Feigen has already faced some consequences, with more still likely to come, it doesn't seem that he will be banned from future games.
Feigen, Lochte, and their other two teammates, Gunnar Bentz and Jack Conger, celebrated their dominance in their Olympic events by, allegedly, getting very drunk at a party, stopping at a gas station on their way back to the Olympic Village, and then vandalizing that gas station's bathroom (reports differ on the level of vandalization but it seems, at least, that Lochte ripped down an advertisement). Allegedly, armed guards then demanded the swimmers pay for the damage, displaying their weapons as they did so.
When Lochte originally reported the events, he claimed the four had been pulled over by thieves posing as police, and that the thieves had allegedly held a gun to his head. Feigen backed Lochte up, lying to Rio police because he allegedly wanted to, as his lawyer said, "protect" Lochte. Now, Feigen is paying a price for the lie, and that price is $11,000.
According to The Guardian, after being detained in Brazil and meeting with a judge, Feigen agreed to pay $11,000 to a Brazilian charity, with the understanding that afterwards, he would be given his passport back and allowed to return home.
And now, the U.S. Olympic Committee CEO Scott Blackmun is saying that the consequences may not stop there. When asked about the four swimmers, he told reporters,
We all understand they let down our athletes and they let down Americans, and they really let down our hosts in Rio. We feel very badly about that. We will have further action on that when we get back to the United States.
Still, there's no word on what those consequences will be yet. It seems likely, in the wake of the news about Speedo dropping Lochte, that Feigen will face similar consequences with any endorsements he may have. And certainly, big brands will be hesitant about having someone with any sort of tarnished reputation represent them in the future.
But a full-on ban on competing in a future Olympics for Feigen seems unlikely. Such bans are not particularly common, and usually arise after doping or other such cheating. Feigen isn't seen as the ringleader of the gas station scandal, and may not have committed any vandalism himself. In fact, new reports imply that the Rio police may have also exaggerated when talking about the extent of the damage, and that because of both the language barrier and the level of intoxication, the athletes may have felt that they were being robbed when men with guns demanded that they pay them money for damages.
Whether or not Feigen will be able to make a Michael Phelps-like comeback at future games is still unknown, but most likely, he'll be given the chance.