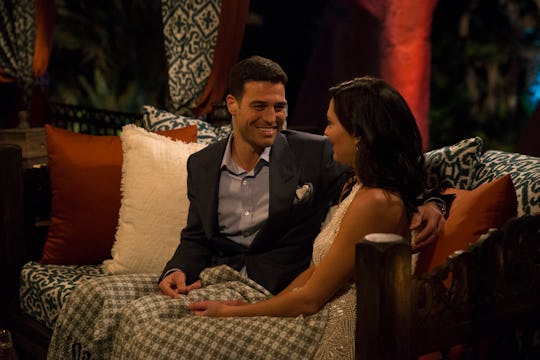 Paul Hebert/ABC
Will Joe From 'The Bachelorette' Get To Be On 'Bachelor In Paradise'?
After watching the premiere of Becca Kufrin's season of The Bachelorette, fans are already buzzing about who their favorite contestants are. Some guys pulled out all the stops to grab Becca's attention, but there was one cool dude who won fan hearts by just being himself. Since he didn't end up getting a rose from Becca and was eliminated on the first night, fans want to know, will Joe be on Bachelor In Paradise? Even though Becca didn't find a connection with him, it seems that the internet definitely has.
Update: Yes, Joe Amabile will be on Bachelor In Paradise, as confirmed by People on June 26.
As of now, there is no official word on casting for Bachelor In Paradise, but after seeing Chris Harrison's tweets about there being grocery stores in paradise, there is genuine excitement building! With one tweet, now fans believe there's a real possibility he could be joining the cast. Along with refusing to confirm or deny that #GroceryStoreJoe is going to paradise, in a series of tweets Harrison hinted that there is a chance -- and even mentioned how much love he's getting from fans. I have to admit that being from Chicago, I cheered Joe on from the get-go, but much like fans all over the internet, it was his sweet, down-to-earth conversation with Becca that had me wanting more.
When sitting down with Becca for the first (and last) time, Joe told her that he owned a grocery store on the south side of Chicago, and got his start selling watermelons. Sure, it doesn't sound as fancy as playing pro ball or inventing an app, but after seeing some of the pompous, ego driven contestants on the show, it was refreshing to see a humble guy who just kept it real without trying to oversell himself.
As if he wasn't adorable enough on The Bachelorette, on his Instagram page, Joe posted a hilarious "Kramer getting dumped" clip from Seinfeld right after his elimination. His Instagram is full of swoon-worthy pictures, including a sexy one of him casually sipping on a Starbucks coffee, and another sweet one of him with his mom. I think the fact that it he doesn't look like he's trying to sell himself or his brand is what makes him effortlessly sexy and appealing. In the often staged and marketed world of The Bachelor, it's always nice to see a real person, especially when he's hot.
When choosing contestants for subsequent Bachelor In Paradise seasons, it looks like the executives choose people based on popularity and personality. They want enough people to watch the show, so they enlist bachelors and bachelorettes that already have a fan following or are going to provide some sense of drama to keep the show engaging. With the amount of love Joe is already getting on the internet, ABC executives may have to consider him as a candidate for Bachelor In Paradise.
As soon as fans saw him exit the show, they took to social media to air their confusion and grief:
People are really hoping to see him again on Bachelor In Paradise, and they weren't shy to voice their hopes to ABC on Twitter:
Of course, the cast won't be officially announced until just before the season airs, but because fans (and Chris Harrison) have already thrown his name into the running, there's a good chance you'll see him in his swimwear real soon. In the meantime, it looks like Joe is taking the elimination in stride. If he does make it to Bachelor In Paradise (fingers crossed), it will be fun to see him bring his earthy charm to the island and hopefully fans will get to watch him make it past at least one rose ceremony this time.