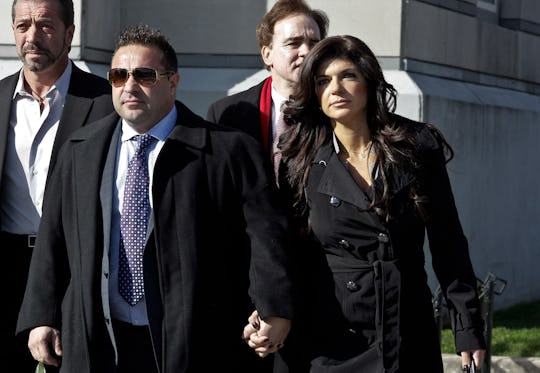 Kena Betancur/Getty Images Entertainment/Getty Images
Will Joe Giudice Be Deported After Prison? It's Possible He'll Head Back To Italy
Real Housewives of New Jersey husband Joe Giudice, at this point, has served just over three months of his three year prison sentence. According to the information at hand, Joe is adjusting to his life behind bars, but is obviously just counting down the days until he is reunited with his wife Teresa and their four daughters, Gia, Gabriella, Milania, and Audriana. Unfortunately, should the worst case scenario come to be, after his prison sentence, Joe Giudice could be sent back to Italy. So, will Joe be deported after he is released from prison? There's really no clear answer.
Joe Giudice was born in Saronno, Italy, and his real first name is actually Giuseppe. The Giudice family moved to New Jersey in the early '70s when Joe was just one year old. Though he has lived and worked his entire life in the United States, married an American woman and has four American daughters, and has firmly asserts that he himself is American and knows next to nothing about Italian culture, he never officially gained American citizenship, and has actually been living illegally in America since he was only a year old, according to Access Hollywood. Giudice goes so far as to claim he didn't even know about this until his recent legal troubles.
According to federal law, Joe could be deported back to Italy as soon as he is released from his prison sentence. He and Teresa have been fairly close-lipped about this, saying vaguely, "We'll deal with that when the time comes." But apparently Joe's deportation is a very real possibility. But I'm honestly not sure how this could be. His parents are naturalized, as are his siblings. We've seen the family travel to Italy before, so did Joe travel with an American or an Italian passport? He and Teresa must have signed documents when they got married. He's held jobs in America. He had a driver's license, which we know because it was once suspended. Surely he must have some sort of legitimate citizenship standing. According to Us Weekly, Joe's attorney said, "Joe not getting U.S. citizenship, just slipped through the cracks."
The whole thing is terribly confusing, but the threat of deportation is real. Teresa and Joe have said that should the worst happen, of course Teresa and their daughters would come with him to start over in Italy. While I hope it doesn't happen, no one will know anything until Joe's release in 2019.