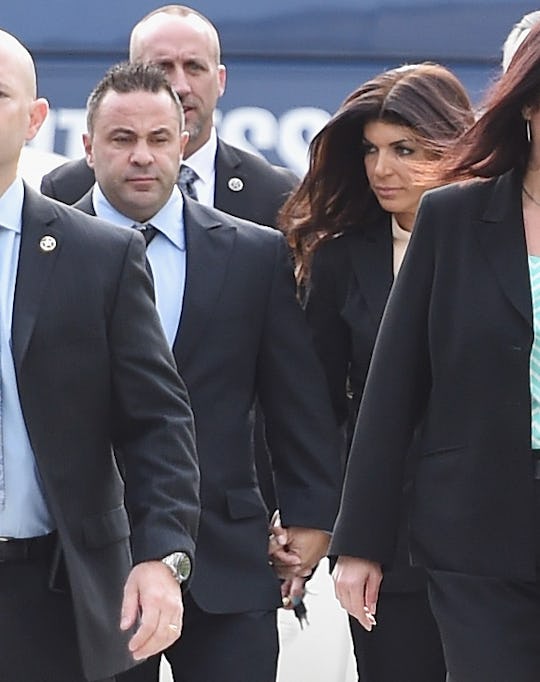 Mike Coppola/Getty Images Entertainment/Getty Images
Will Joe Giudice Be Released From Prison Early? He Is Already Serving Time
Real Housewives of New Jersey is back for the summer, and the first few episodes of Season 7 have mostly focused on Teresa Giudice's return from prison. While she was originally sentenced to 15 months, she successfully secured an early release after serving a little over 11 months, ensuring she'd spend the holidays with her family. We'll also see Teresa preparing for Joe's impending three-and-a-half-year prison sentence, which he is currently about four months into, later this season. But fans are wondering: will Joe Giudice be released early, too? Here's what we know so far.
Joe was originally sentenced to 41 months in prison, but after turning himself in this past March, we learned that he'd already had five months knocked off his time, setting him up for release in March of 2019. The Giudice family lawyer James J. Leonard, Jr. told Bravo's The Daily Dish:
"In the federal prison system, inmates typically serve 85 percent of their sentence. So when you're looking at a projected release date, what you're looking at is 85 percent of the actual custodial sentence. Additional time can and often does come off of the projected release date for things such as halfway house or home confinement, so in many cases an actual release date can be different than the projected release date. It seems very confusing, but it's actually not."
Joe was initially hopeful that he'd only serve 18 months because he intended to participate in as many of the prison's sentence reduction programs as he could, which, in his case, meant joining an alcohol rehabilitation program. But a prison and sentencing consultant told NJ.com that Joe likely wouldn't be eligible for such programs for a couple of reasons.
First of all, Joe is not a US citizen and he is thus in danger of being deported after he's served his time. The point of a rehabilitation program is to prepare an inmate to be a well-functioning citizen again — a well-functioning US citizen. So it's possible he won't be approved for the program. Plus, he'd have to make a well-documented case that he's had a serious substance abuse issue for the past 12 months. Keep in mind that, even though Joe was charged with a DUI in 2010, he was ultimately found not guilty, and insisted that he wasn't drunk when he was driving. And we know how the Giudices feel about therapy, so there's probably no documentation from a therapist, counselor, social worker, or mental health professional of any kind that might hold weight in a court of law proving Joe has a drinking problem.
So for now, Joe seems relegated to serving out his 36 months.