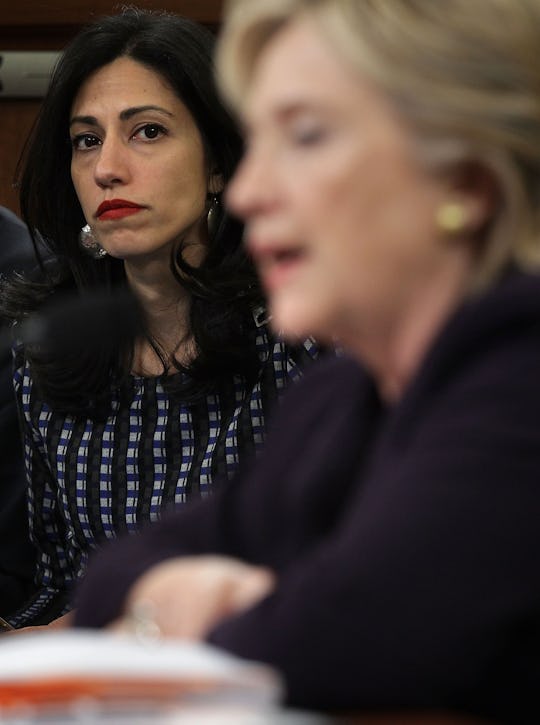 Alex Wong/Getty Images News/Getty Images
Will John Podesta & Huma Abedin Leave Hillary Clinton's Campaign? Absolutely Not
While it is to be expected for Democratic Party presidential nominee Hillary Clinton to come under criticism during this election season, no one might have expected her closest advisers to be criticized so heavily as well. Recently, two of Clinton's top advisers — John Podesta and Huma Abedin — have come under fire. Now, the question of whether John Podesta and Huma Abedin will leave Hillary Clinton's campaign amid recent turmoil has bubbled over — but Clinton naysayers shouldn't hold their breath — for now, the two aren't going anywhere.
Recent scandals have given way to rumors about Podesta and Abedin potentially considering leaving Clinton's campaign or being forces out. Just this past Friday, FBI director James Comey announced that the FBI found emails from Abedin on a computer belonging to Abedin's estranged husband, former New York congressman Anthony Weiner. This discovery "reignited the Clinton email investigation." According to The Washington Post, the emails were found after the FBI seized devices belonging to Weiner due to a current investigation of him. As for Podesta, he has been the target of criticism throughout the month of October, as WikiLeaks continues to release thousands of emails belonging to his hacked account. It's important to note, however, that officials did not tie any of the newly discovered information to Clinton herself, or her email server.
In response, Podesta showed no signs of distress when he took to CNN's State of the Union on Sunday morning to discuss and address recent developments in the Clinton campaign — specifically the discovery of the new communications — with State of the Union host Jake Tapper. Podesta also confirmed that Abedin is "absolutely" still working in part of the Clinton campaign.
Podesta told Tapper:
She's [Huma] played a central and vital role in this campaign and she continues to do that and continues to do her work running our overall, scheduling an advanced operation, being a confidant for the senior people in the campaign and traveling with Hillary. She doesn't travel every day but she travels frequently with her.
In an angry statement on Friday, Podesta also blasted FBI Director James Comey for sending a letter to eight Republican committee chairmen regarding the development, something Justice officials had thought was improper, which in turn triggered a meltdown within the public sphere, as many believed the new missives were classified information sent again from Clinton's server:
FBI Director Comey should immediately provide the American public more information than is contained in the letter he sent to eight Republican committee chairmen. Already, we have seen characterizations that the FBI is 'reopening' an investigation but Comey's words do not match that characterization. Director Comey's letter refers to emails that have come to light in an unrelated case, but we have no idea what those emails are and the Director himself notes they may not even be significant.
It is extraordinary that we would see something like this just 11 days out from a presidential election. The Director owes it to the American people to immediately provide the full details of what he is now examining. We are confident this will not produce any conclusions different from the one the FBI reached in July.
While some may believe that there are reasons for Podesta and Abedin to leave the Clinton campaign, even this late in the game, there is so much history between Clinton and her top aides — forging a bond that cannot be broken by a few opaque, confusing scandals. Abedin and Clinton's relationship goes back to 1996 when Abedin joined the White House as an intern at just 20 years old. Since then, Abedin has remained close to Clinton, working in different roles throughout Clinton's political career. Vanity Fair describes Abedin as Hillary's "confessor, confidant, and constant companion."
Clinton and Podesta also have an extensive history together. According to Time, Podesta served as the staff secretary for President Bill Clinton's first term in office and was later challenged with handling Bill's scandals. Podesta later served as the chief of staff for Bill's last years in the Oval Office and later joined Hillary's presidential campaign as well. Podesta is such a critical aide to Hillary's campaign that Time calls Podesta "the man behind the Clinton campaign curtain."
It is this loyalty and history that both of her aides have with Hillary that would make an exit from either one of them incredibly shocking. Abedin and Podesta are two of the most powerful people behind Hillary. Despite all of the scandal they might encounter in these last days of campaigning, there is no doubt about it — Abedin and Podesta are with her.