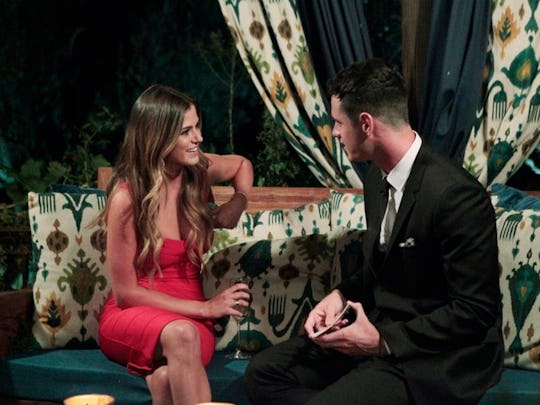 Rick Rowell/ABC
Will JoJo Be The 2016 Bachelorette? If She Doesn't Win, Fans Hope It Will Be Her
Fans of The Bachelor know it's getting down the wire. Just two lucky ladies are left in the race to win Ben Higgins' heart, and he couldn't be more torn up about it. JoJo Fletcher and Lauren Bushnell have both gotten close to the reality TV heartthrob, so whoever gets ditched will definitely be devastated. There's speculation that if Higgins doesn't propose to JoJo, she'll get another shot at love. So, will JoJo be the 2016 Bachelorette?
In the preview for the final episode of The Bachelor, Ben is in a real pickle. He's told both Lauren and JoJo that he's in love with them, and they've said as much back. JoJo has won quite a following during her time on the ABC show, and surely the producers have noticed. It seems only right that if she does not win the show, she deserves another chance at finding someone else out there. Hollywood Life hypothesized that other contestants were in the running for the coveted role, but anyone who has been watching knows that JoJo has got what it takes.
But what about Lauren? If she isn't chosen, could she be the next Bachelorette? Fans are pretty split about this. While some say she doesn't have the same gumption and grit necessary to handle 25 men competing for her heart, others contend that she would be an excellent candidate. From the way she has been able to open up to Ben, it's clear she's comfortable in front of the camera. She's not overly dramatic, but, instead, has been consistently very kind and sincere. But, perhaps that's a bad thing. A Bachelorette has to play the field and be cunning, all while protecting her heart. It's no easy task. But it is a task JoJo would definitely be up for.
Jojo has been described by Ben as "fun" and the "life of the party." If that doesn't scream "bachelorette" I'm not sure what does. She's also firmly ready to be in a committed relationship. After her ex-boyfriend showed up randomly on the show, she made it clear that she was completely over him and completely dedicated to the show. JoJo is not only ready for love, she's also ready for marriage, which raises the stakes for any man willing to compete for her heart. The Bachelorette is all about the drama, and JoJo would surely deliver.
What's more, her family would no doubt add to the on-screen tension. Fans got to meet her two protective older brothers, Matt and Ben Patton, who threatened Ben and accused him of brainwashing JoJo into loving him, which made for some really awkward moments. Meeting her family would be an especially fear-inducing challenge for the brave Bachelorette contestants; by now fans know that the Fletchers don't go easy on anyone.
On March 14 fans will finally learn which woman Ben chose and who will go home alone. Allegedly, Ben is still engaged to the "winner" of this season, but that's hardly a clue as to who it may be. Maybe it's JoJo. But, if it's not, there's a good chance she'll be back.