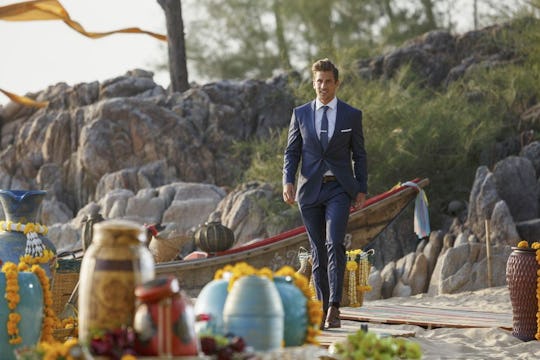 Matt Klitscher/ABC
Will JoJo & Jordan Live Together After 'The Bachelorette'? They've Already Made Plans
There wasn't really anything shocking about The Bachelorette finale. There were tears, lots of diamonds, and a proposal that the entire world could have predicted. On Monday's finale, JoJo picked Jordan Rodgers as the winner of The Bachelorette, and all seemed right in this world. Since the very beginning, the two were clearly meant for each other — and based on the "After the Final Rose", they're still together. But will JoJo and Jordan live together after The Bachelorette? Don't worry, they've already got plans to road trip to their new home.
The two are very excited to be together, and seem to genuinely be looking forward to their life together. In fact, they're so excited that they've already made plans to move in together. So, what are their plans? JoJo and Jordan shared that they'd be moving in together in Dallas, having gotten a house for their new little family. The only roadblock they are facing is picking up Jordan's bed in Nashville and then road tripping from Nashville to Dallas. Honestly, if they can survive a moving road trip, then I think these two can survive just about anything the world throws at them post-Bachelorette.
On the finale, JoJo broke Robby's heart when she told him that she picked Jordan. It didn't stop her from saying that she had fallen in love with him — a la Ben Higgins — but that's neither here nor there. Eventually, JoJo told Jordan he was the one she loved, and he proposed. All was good in this world, and things eventually seemed to fall into their proper place.
While on the after show, Jordan revealed that he and JoJo have plans for their future. But, that didn't come with some hurdles. The two spoke on the fact that they haven't had the easiest time, considering the drama that surrounded their relationship (was Jordan really their for the right reason?). We'll have to see if things work for them, but as for now, it seems that the two are doing their best to make it work.