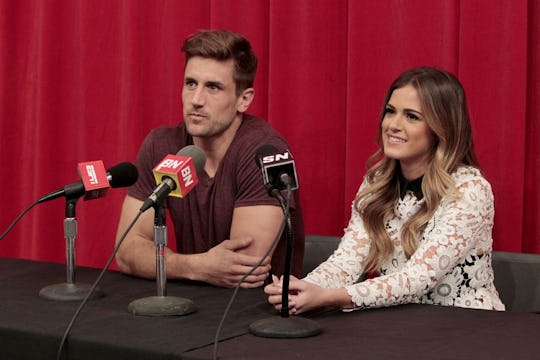 ABC/Rick Rowell
Will JoJo Send Jordan Home On 'The Bachelorette'? The Trailer Hints At It
Monday night's episode of The Bachelorette made two things clear: JoJo is falling hard for contestant Jordan Rodgers, former professional football player, but she also has trouble trusting him. While she picked Jordan for the one-on-one date on the show's trip to Uruguay, she spent a large portion of it confronting him about supposedly cheating on his ex-girlfriend. Jordan was safe this episode, but JoJo may still have reservations. Given that she is so emotional for the trailer for the next episode, will JoJo send Jordan home on The Bachelorette?
On this season's premiere, Jordan's ex-girlfriend Brittany claimed that he cheated on her and has flirted with other women while in relationships. Fast forward to Monday night's episode: while Jordan received a rose before the ceremony, he did everything he could to get her attention – including making-out with her while the other contestants were on the opposite side of the wall. JoJo asked for a solo date with him, which was initially going great – until she brought up Brittany's accusations.
Jordan pretty much skirted around her questions; while he said a stern "no" when asked if he cheated, he then clarified by saying he did not "physically" cheat. Regardless, JoJo remained smitten and said this could be the "start of a perfect love story." After the conversation they greeted a mariachi band outside and all was well.
Well, or so we thought. The other contestants are suspicious of Jordan's intentions. Derek called him out along with Alex and Chase for having a "clique," which they did not really entertain. Despite this, and despite Jordan's roundabout explanation regarding cheating, he had a rose at the last ceremony of the episode – he received it even before the ceremony – so he is definitely still in the running. At this point he's probably JoJo's favorite.
Judging by the trailer for next week, however, this might change. JoJo is shown distraught, having to say goodbye to someone she loves. Throughout this episode she hints that she is falling in love with Jordan, so it could be that she's talking about him. Furthermore, given his slightly shady behavior, it would not be unusual if JoJo finds out more about him that would give her reason to send him home. Perhaps he was not being totally truthful with her – either about his past, or the fact that her feelings for him are reciprocated. As of now Jordan is the frontrunner, but this might be changing soon.