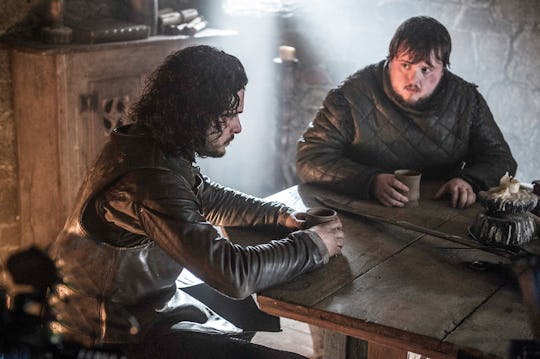 Will Jon & Sam Reunite On 'Game Of Thrones'? Jon's Watch Has Ended, So It's Possible
After putting his assassins to death, a resurrected Jon Snow peaces out of Castle Black during the Season 6 episode "Oathbreakers," since his watch technically has ended. But will Jon and Sam reunite on Game of Thrones? Considering we caught a glimpse of Sam and Gilly early in the episode, it feels like something heartwarming is on the horizon.
Jon Snow seems pretty resigned to leaving the Night's Watch early on in the episode. "I did what I thought was right and I got murdered for it," he exclaims in disbelief while processing the circumstances under which he died with Ser Davos. The Wildlings, who miraculously came to Ser Davos & Friends' rescue at the eleventh hour, allowing Melisandre the time to resurrect Jon, are still with the Lord Commander of the Night's Watch. They seem glad he has survived.
Samwell, meanwhile, is on a ship out at sea (read: puking his brains out) with Gilly and little Sam en route to his home at Horn Hill. He plans to drop Gilly and Sam off there on his way to Oldtown where he plans to continue his studies at the Citadel. (Gilly, of course, can't go to the Citadel on account of her ladyparts.)
"That's all I want," Sam tells Gilly as he tries to convince her that their separation is the best option, "To become a maester so I can help Jon when the time comes. So you'll be safe."
After Jon executes his assassins, he hands his cloak to Eddison Tollett, telling him, "You have Castle Black. My watch has ended," before walking out.
We don't know where Jon Snow is headed, but Sam doesn't even know Jon died. So there's definitely potential here for a Romeo and Juliet-esque missed communique, where Sam finds out Jon Snow died without receiving the accompanying (and ludicrous) information that he was also resurrected by Melisandre. But now that they're both free of the Night's Watch, their potential fates are each blown wide open. Either way, if their reunion scene is one tenth as emotional as Jon's reunion with Ghost, then we'll be satisfied.