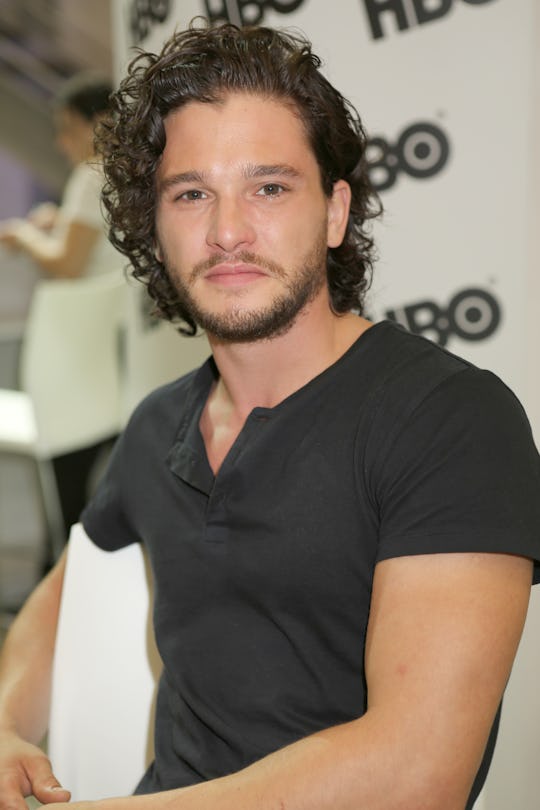 Handout/Getty Images Entertainment/Getty Images
Will Jon Snow Be in the Game of Thrones Season Premiere? His Pretty (Dead) Face Will Be Back
There are so many reasons to wish this winter would hurry along: spring, bike rides, drinks on patios... but mainly, the return of Game of Thrones on Apr. 24. (Why yes I do have my priorities in order, thank you.) And now that Kit Harington, who plays Jon Snow on the show, has confirmed his return to Game of Thrones for season 6, I'm even more excited. Why? Because last time we saw Jon Snow, he was dead. Like, really, really, stabbed-and-not-coming-back dead. Except he might be coming back. (Are you confused yet? Yes, so am I.) Luckily, we won't have to wait too long to get a glimpse of Snow, as Jon Snow will be in the premiere of season 6 on Game of Thrones, if cast members' spoilers are to be believed.
In fact, it looks like Jon Snow might be the opening scene of season 6. According to E! Online, Nikolaj Coster-Waldau, who plays Jamie Lannister on GOT, recently revealed, "The opening scene of season 6 will kind of reveal that Jon Snow is... dead." Season 6's premiere episode director Jeremy Podeswa also hinted at a Jon Snow appearance in the first episode. "The show picks up where it left off last season. That's all I'll say on that subject," he said, according to The International Business Times.
So Snow definitely starts off season 6 pretty dead — but fans have good reason to think he may come back to life later in the show. (And hey, it's Game of Thrones... would a resurrection really be the strangest thing this show has seen?)
Since the TV show has now caught up to George R. R. Martin's writing, fans have had to dig a little deeper for their theories. One fairly good sign that Jon Snow will come back to life is the fact that actor Kit Harington's contract was renegotiated to include a susbstantial pay increase for season 6 — and an option for season 7, according to The Hollywood Reporter.
Second, if we look at the show itself, Melisandre arrived at the Wall just before Snow was stabbed to death. If there's one person on the show with the power to bring Snow back, it would be Melisandre and her particular brand of priestess powers. Could it be a coincidence? Well, yes, but I'm choosing to believe it's not.
The series' author, George R. R. Martin, has also dropped a hint or two — although, of course, the TV show could choose to follow a different path from the books. In a 2011 Entertainment Weekly interview, Martin said, "Oh, you think [Jon]'s dead, do you?" (Cheeky man.) More recently, he also dropped: "If there's one thing we know in A Song of Ice and Fire is that death is not necessarily permanent."
It may be a game a guessing game for now, but I have a feeling we'll be seeing Snow quite a bit in season 6 — and if the spoilers are right, we may even see him as soon as the first episode, which airs Apr. 24.