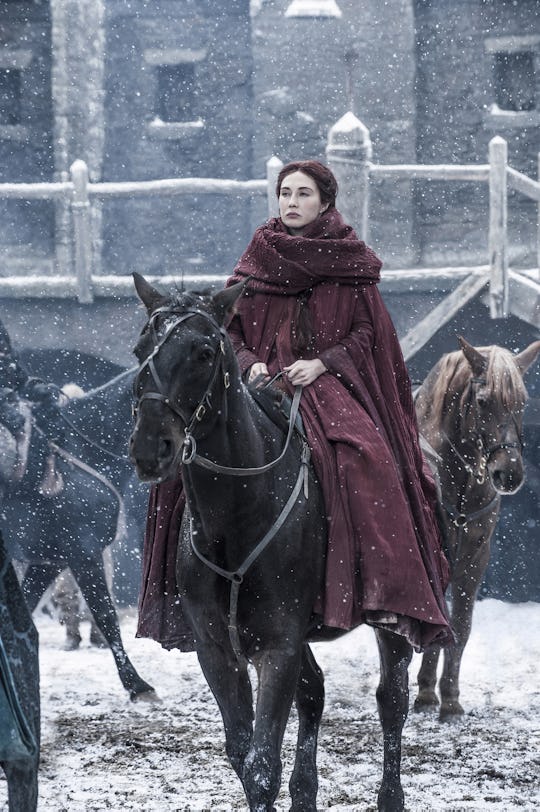 HBO
Will Jon Snow Wear Melisandre's Necklace On 'Game Of Thrones'? It Definitely Has Powers
Much to our disappointment, though in confirmation of what Game of Thrones showrunners David Benioff and D. B. Weiss have been saying all summer, Jon Snow did not survive his ambush at Castle Black. The Season 6 premiere found him quite dead at the hands of his men, and Ser Davos quickly carried Jon Snow's body to shelter, where he has barricaded himself against The Night's Watch with Melisandre. We also learn in the premiere that her necklace has special powers, which has some fans wondering, will Jon Snow put on Melisandre's necklace?
While the necklace's power is significant, it seems to be tied more to Melisandre's ability to glamor herself into a young and beautiful priestess of the Lord of Light, rather than any other magical ability. Melisandre definitely has powers herself, having given birth to homicidal shadow babies and surviving a poisoning. But the Season 6 premiere's big reveal is showing us Melisandre's true self — that of an old, feeble woman — which comes to pass as a result of taking off the ruby necklace she wears at all times.
In the past, we've seen the choker glow red whenever Melisandre performs any act of magic. It's possible the necklace may have some magical powers itself. While it also seems likely that Melisandre, ever thirsty for King's Blood, might use Jon Snow's body for some dark magic, it doesn't seem probable that putting the necklace on Jon Snow might revive him in some way. The way glamor magic is described in the books is that a talisman of sorts — in this case the necklace — carries the power to enhance the effect of a glamor. It's why Melisandre's transformation is so dramatic and so convincing.
It doesn't seem likely that glamoring Jon Snow will be tied in any way to bringing him back to life, plus, the show's creators keep stressing that Jon Snow is not coming back. But it's possible that Melisandre may be able to take some object from Jon Snow's body and make it into its own talisman in an effort to glamour someone into looking like him (which would at least bring Kit Harrington back into our lives!).
We didn't get a ton of information about the direction Season 6 is headed from the premiere, but we do know that the necklace is extremely significant, Jon Snow's corpse is available for magicking for the time being, and Melisandre is in the right place at the right time to wreak some witchy havoc on the Lord Commander of the Night's Watch's body.