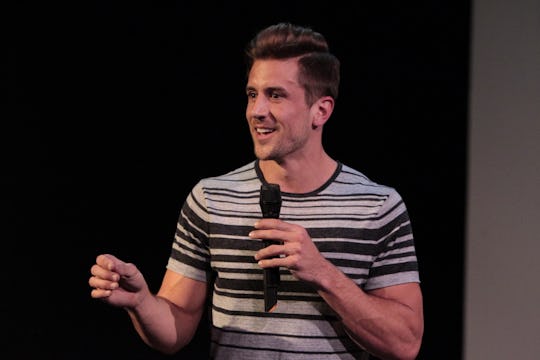 Rick Rowell/ABC
Will Jordan Rodgers Be The 2017 'Bachelor'? It's Been Rumored
Ever since Season 12 of The Bachelorette began, rumors have been swirling about who might be next year's Bachelor. The leading man would be likely be pulled from the current pool of contestants competing to date JoJo Fletcher, and from day one there's been one guy who stood out from the crowd. Jordan Rodgers has the dubious honor of being related to a famous person (his brother, Aaron Rodgers) and also being a clear favorite of JoJo's, who practically flings herself into his arms as soon as they're alone together. It seems like Jordan might be a lock to win, but does that mean his TV dating journey is done? Will Jordan Rodgers be the 2017 Bachelor?
It's been rumored from early on that Jordan wasn't joining the show with the intention of finding love – he was really there for the fame. Despite his chemistry with JoJo, something seemed suspect from the start and when his ex-girlfriend accused him of cheating via an Instagram post, it certainly seemed like a confirmation that something questionable was going on behind Jordan's charming facade. His ex, Brittany Farrar, also including a pretty damning hashtag on her post: "#alwayswantedtobefamous."
It added to suspicions that Jordan was only there to help his career, to get his name out there, and maybe even snag the next Bachelor spot.
A "source" told Us Weekly (so take it with a grain of salt) that Jordan's goal was to become the next Bachelor, but he ended up falling for JoJo anyway. That sounds a little bit too much like the plot of a mid-00s romantic comedy to be entirely true, but if anything it proves that Jordan can't seem to shake the narrative that has been attached to him.
Jordan would make a good choice for the next Bachelor. He's got name recognition and a decent story to tell, but the doubt over his intentions might do him in. Fans want to believe that at least some of what's going on onscreen is real, so the questions about Jordan might be too distracting. Who would want to watch someone who can't believably act like they're really looking for love and not just fame?
Some are speculating that Jordan will try to have the best of both worlds: he'll get the final rose, end the season with JoJo, and then break off the engagement. Then he'll have gotten all the press of winning, but still be able to step up as the next Bachelor – this time as a guy who got his heart broken and is looking to heal it. That would make Jordan pretty calculating; if he really had that much skill at manipulation, he'd probably be shooting higher than the Bachelor.
Jordan's chances of being the next Bachelor are good – as good as any of the guys, and maybe better – but fans might not want to watch him if they can't trust his motives.