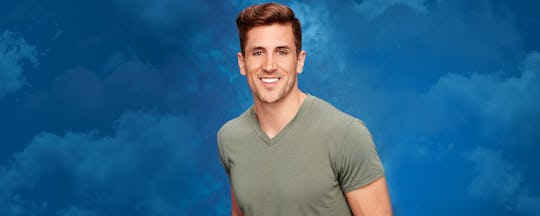 Craig Sjodin/ABC
Will Jordan Rodgers Tell JoJo About Chad On 'The Bachelorette'? Someone Needs To
No one likes a tattler, but someone has to tell JoJo about Chad on The Bachelorette. In the past, the person who decides to take it upon themselves to fib on the "villain" of the season often goes home. Actually, I think they always go home. No one likes the drama that comes along with a villain — with the exception of Courtney Robertson and Ben Flajnik — but the person who tells on the villain usually also sees some repercussions. So, could Jordan Rodgers tell JoJo about Chad on The Bachelorette? If he does, it could be the kiss of Bachelor Nation death.
When I say someone needs to "tell JoJo about Chad," I'm of course referring to the fact that Chad has quickly become the bad guy in the remaining suitors on the show. He's critical of just about everyone, he is insensitive to others' opinions, and he hates the song that . "Chad is a toxic person" Alex said during the ESPN date. See, I told you, this guy is not only a fan-least-favorite, but he hasn't even found a fan in the house. (Well, except for Daniel, which — yeah.)
One guy that has noticed Chad's style of communication is Jordan. The former football player slightly mentioned that JoJo needs to see the real type of person Chad is. But, does that mean he is going to take it upon himself to enlighten her? If he wants to stick around, it may be best for him to just zip it.
In seasons past, the fibber is often sent home along with, if not before, the person being told on. It sounds very juvenile, but removing all petty drama such as bullying and tattling seems to be the best route for former Bachelors and Bachelorettes. So, if Jordan finds himself as a tattler, he may also find himself in a limo on his way back home.
JoJo has said that she's into the bad guys — a role Chad has done a great job at filling thus far. Maybe he just doesn't prescribe to this form of finding love. That is totally acceptable. He even said during the date that he was starting to have feelings for JoJo, which is great. But, he's going to need to change his attitude before someone — whether it be Jordan or not — tells JoJo about him.