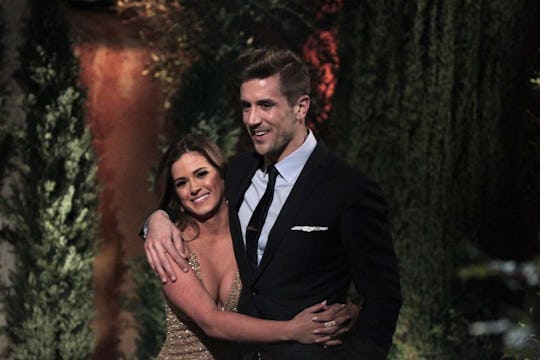 Rick Rowell/ABC
Will Jordan Rodgers Win 'The Bachelorette'? He's Certainly One To Watch
In January, American fell in love with JoJo Fletcher. So much so, that it was a rather enthusiastic reveal that she would be playing the part of the 2016 Bachelorette over some of her Bachelor counterparts. Now, the time has come for the nation to watch her find love in the same way Ben Higgins did earlier this year. Naturally, as the season progresses, people are going to be wondering who JoJo Fletcher picks on The Bachelorette. Don't worry — this is a spoiler free zone, but that doesn't mean there can't be some major speculations as to if the frontrunner of the competition, Jordan Rodgers, wins The Bachelorette.
There have been a lot of reports as to whether or not Jordan Rodgers will be a frontrunner this season. Ignoring those reports, that title can seemingly be handed out to the football star based on the premiere episode of the season. While things can change over the course of the show — fan favorites and early contenders can turn into villains before you know it — something has to be said by the fact that Jordan Rodgers won the season premiere.
That doesn't mean he will win the whole season, but let's look at the odds. First of all, JoJo says she has an undeniable connection with Jordan. Um, noted. Their connection is obvious within seconds of meeting each other, and fans aren't the only ones to take note. JoJo is clearly taken — perhaps in a more lustful way, but that's neither here nor there at this point in the show — by Jordan Rodgers.
She's so taken with him that Jordan ends up stealing the premiere. The football player not only earns the coveted first exit out of the limo, but he also gets the first impression rose, and the first kiss. (OK, he doesn't really get the first kiss, that goes to Will, but Jordan seems to get the first kiss that JoJo is actually eager about. Sorry, Will.)
So, does this mean that Jordan could win the whole show? It's definitely a good start. Winners in the past have been notorious frontrunners the entire season. Just look at Ben Higgins choosing Lauren B. over JoJo. Lauren B. was the first out the limo on Night 1, she was a frontrunner before half of the women even realized what show they were on, and she clearly stole Ben's heart long before he realized he also loved JoJo.
So, whether he wins, comes in second, or is the next Bachelor, Jordan Rodgers is one to watch.