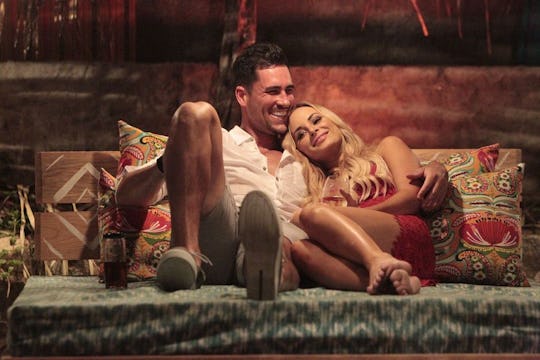 Rick Rowell/ABC
Will Josh & Amanda Get Married After 'Bachelor in Paradise'? They Just Moved In Together
It seems to have been love at first smooch for Josh Murray and Amanda Stanton on Bachelor in Paradise. They have spent the majority of their weeks at the resort luxuriating in the ocean breeze, making out, defending their relationship whenever someone raises any questions, making out, trying to pretend there is nothing questionable about Josh at all, and smarmily eating pizza. Well, that last one was just Josh, really. Despite doubts raised by the rest of the contestants, Amanda never manages more than a momentary flash of uncertainty about Josh and they appear to be going strong to this day. So will Josh and Amanda get married after Bachelor in Paradise?
According to an interview the couple did with Us Weekly, they're now happily living together in California with Amanda's two daughters. Josh moved all the way from Atlanta to be with Amanda in Cali, which is a pretty big step forward in their relationship. And considering couples either leave paradise broken up or engaged, it looks like Josh and Amanda are almost certainly engaged. However, neither of them has publicly revealed their engagement if that is, in fact, what's going on between them. Still, it seems like they do expect to be together for the foreseeable future.
Though they were singing each other's praises in their interview with Us Weekly, neither half of the couple confirmed that they were planning to get married. Josh said their relationship was going well ("amazing," in his words) and added that he believed Amanda was someone he could spent his life with. Amanda did affirm that she wanted to walk down the aisle again one day, though she didn't specify if she wanted the person waiting for her at the altar to be Josh. "I definitely want to get married again," Amanda said. "I do want more kids eventually. I have my hands full right now, but somewhere along the road – yes!"
It wouldn't be a surprise if Josh and Amanda were angling for a big wedding special a la Jade and Tanner, though at this point who knows how thrilled the guests would be to attend it. If Josh is trying to rehabilitate his image by coming on the show, as Nick Viall suggested, he might not be doing the best job of it by losing his temper so often. The constant moaning and unblinking intensity don't really help either.
If nothing else, it seems clear that Josh and Amanda are thinking about the future, even if they're not sharing those thoughts with the public quite yet.