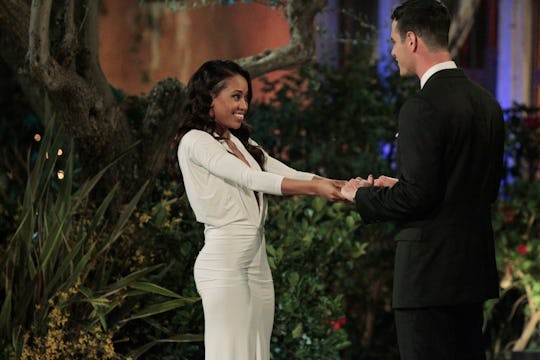 Will Jubilee Be The Next Bachelorette? The 'Bachelor' Contestant Could Bring Some Welcome Diversity To The Reality Series
Is it too early to start choosing fan favorites for the Bachelorette? Absolutely not, and we already have our eyes on one lady to be the next, most eligible woman in America. So the big question now remains: Will Jubilee actually be the next Bachelorette, if her turn on this season's Bachelor turn sour?
Jubilee won our hearts the moment we learned she was an Army War Vet ready to take on the battlefield of love — not to mention the fact that she was a welcome break from the 8,000 blonde Laurens coming out of the limos this season. Jubilee then became an immediate stand-out on last week's group date when she revealed to Ben that she was adopted during their one-on-one time. But tonight, we became full-blown Jubilee fanatics after her solo spa date with Ben.
Yes, Jubilee had a rocky start to her solo date. Asking the girls, "Who wants to go on my date?" after seeing that she would be flying in a helicopter definitely ruffled a few jealous feathers. And yeah, she spit out some caviar, and talked about how much she loved hot dogs, but we kind of found that endearing. Remember, we all loved Kaitlyn for her super frank sense of humor. (Re: Kaitlyn asking Chris if she can plow his field). How is Jubilee any different?
Jubilee, of course, totally redeemed herself later in the date when she and Ben had some alone time in the hot tub, diving even deeper into her past to reveal some truly heartbreaking truths over dinner. (She even said she could relate to Ben in terms of feeling unlovable.)
Jubilee is strong, and honest, and she even went straight to Ben's aid after he told the ladies two friends from home passed away in a plane crash. That's more than we can say for Olivia, and her pressing cankle matter.
Looking to Twitter, it seems like #BachelorNation agrees.
Ben may just pick her, but if he doesn't, she totally has our vote. But beyond our own predictions, there have been some clues from the higher-ups of the Bachelor world that Jubilee might just make it to next season.
According to ABC entertainment president Paul Lee, The Bachelor is making movements to diversify its casting going forward. Though Juan Pablo marked the first hispanic Bachelor in 21 seasons, the series still seems to be very white-washed when it comes to contestants and its leading men and women. Hopefully that will all change, and soon. Lee said they are in the process of making "tweaks" and that he would be "surprised" if The Bachelorette wasn't diverse. Now this doesn't necessarily mean that the Bachelorette herself would be diverse — but then again, it definitely could.
We've got our eye on you, Jubilee and we look forward to the day when you're the one handing out the roses.
Images: ABC/Rick Rowell; Jubilee Sharpe/Instagram