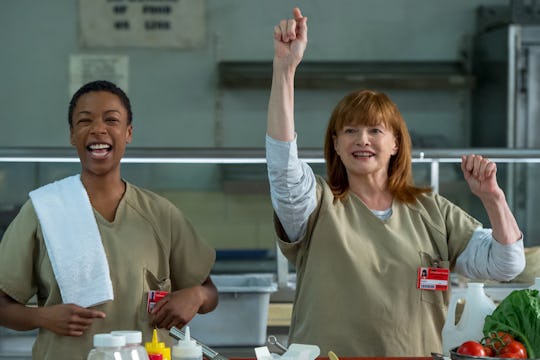 JoJo/Whilden
Will Judy King Return To 'Orange Is The New Black' Season 5? One Theory Is Worrisome
The intense and unrelentingly dark fourth season of Orange Is the New Black dropped on June 17, and I'm still reeling after binge-watching the whole thing. (Warning: Major spoilers ahead for the entirety of Orange Is the New Black Season 4.) There were some seriously heartbreaking and shocking developments (including the distressing and all-too-realistic death of a fan-favorite character), and the season ended on a major cliffhanger – incensed by the death of one of their own, the inmates rioted, taking COs hostage just as Judy King was being released. But will Judy return for the fifth season of Orange Is the New Black?
One theory has emerged that's giving giving fan serious pause. You'll recall that Judy developed a bit of a friendship with Poussey, who was arguably the celebrity chef's biggest fan in Litchfield. You'll also recall that Judy was revealed to be an incredibly manipulative and often downright selfish person, particularly through her dealings with Yoga Jones and Luschek. After the horrific and tragic death of Poussey in the penultimate episode of the season, MCC fudged their records to get Judy out of prison early, hoping to spare their high-profile inmate from becoming entangled in the scandal.
Judy's roommate, Yoga Jones, argued with Judy, trying to convince her to stand up for Poussey — either using her smuggled-in cell phone to call the police and report Poussey's death or refusing to leave the prison in protest of the killing. Judy refused, though she was clearly shaken up over the death of Poussey, who she'd called a friend. A lame move on Judy's part, really.
Meanwhile, Taystee listened in on Caputo's press conference on Poussey's death. Enraged that he hadn't announced her best friend's name or confirmed that they would be indicting Bayley for her murder, Taystee riled up her fellow inmates and started a riot. The prisoners closed in on the guards who were escorting Judy out of jail and the season ended with Daya (of all people!) holding a gun on the evil CO Humphrey.
The ending left us wondering whether Daya would actually pull the trigger and kill the man. Yikes. Somebody go find Bennett to talk her down, stat!
Now, one Redditor is theorizing that the gun will go off in Season 5 – but that Judy King might be the one to get caught in the line of fire. And it's totally plausible.
Many of the prisoners were chanting "Attica" as they rushed into the riot, a chant started by resident goofballs Leanne and Angie. "Attica" is a reference to a real-life prison riot, in which an inmate who was just days away from being released wound up getting shot to death. Sound familiar?
Plus, it just doesn't make sense that Daya would purposely shoot someone. As much as she might attempt to put on a show and bravado in front of newly-risen queenpin Maria, she doesn't have cold-blooded murder in her. What's much more likely is that the gun would go off accidentally, as someone is taking the gun away from Daya – making her an accidental murderer and putting even more obstacles between her and the goal of retrieving her baby. Talk about drama.
It remains to be seen whether Judy will make it out alive (or even out of Litchfield) in Orange Is the New Black Season 5, but we'll be waiting on pins and needles for a year to see the outcome of that prison riot cliffhanger. But hey, bright side? At least we're guaranteed a minimum of three more seasons of this amazing series.