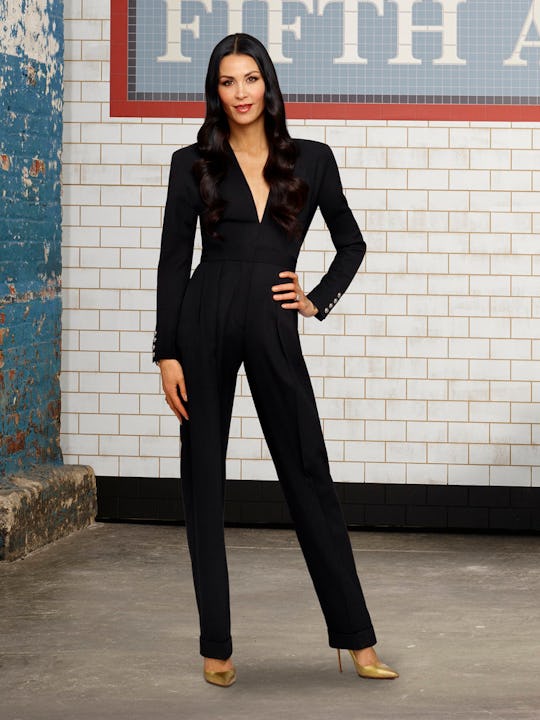 Craig Sjodin/Bravo
Will Jules Wainstein Return To 'Real Housewives Of New York'? She's A Great Addition
Jules Wainstein's initiation into Andy Cohen's delightful bizarro-world of wealthy women living their glamorous lives — the Real Housewives franchise, of course — has already become extremely personal for the mom of two. In Episode 5, Jules bravely admitted to her struggles with an eating disorder since she was a teenager. Her honestly squashed the already budding issue between her and Bethenny Frankel, as Bethenny could not only relate to the struggles because of those she's close to, but also because it was extremely honest. As far as drama goes, Jules is off to a good start, which might have you wondering if Jules will be back for another season of The Real Housewives of New York. She'll have to keep the drama coming to keep her spot.
Season 8 of The Real Housewives of New York has seen the departure of two Housewives, Kristen Taekman and Heather Thomson. Although the exact reasons are unknown, it always seems that Housewives who don't lend themselves to the majority of the drama are sometimes let go. I don't know if that's a blessing or a curse, but the two had a good run on the show and have seemed to successfully move on. Heather's departure seems to have been a mutual break-up. She went on the show to promote her shape-wear business, Yummie, but found herself in the midst of too many dramatic fights with the other women, and decided in the end that the show was bad for her business and her personal life. Fair enough.
We can't be sure of what's in store for Jules, but it looks like she's got just the right amount of pot-stirring in her to keep her on for at least another go-round. Just six episodes in, Jules has already set herself up as a wildcard personality. She captured attention by giving herself a quickie mikveh, a ritual cleansing bath, in the ice bucket after touching shellfish, fretting that she was going to go to hell. She has also made some comments that are sure to cause tensions among the other ladies, including calling Bethenny "new money," and repeatedly making fun of them for their age (at 34, Jules is younger than the other ladies). But, even more than quirkiness and a tendency toward rather tone-deaf commentary, Jules seems willing to dive right into the drama.
She has also opened up a discussion about her history with an eating disorder, which is sure to be an important subject to share with viewers for the remainder of the season.
Jules has yet to speak out about if she is interested in returning to the show or not, but she's definitely setting herself up for fans wanting her back.