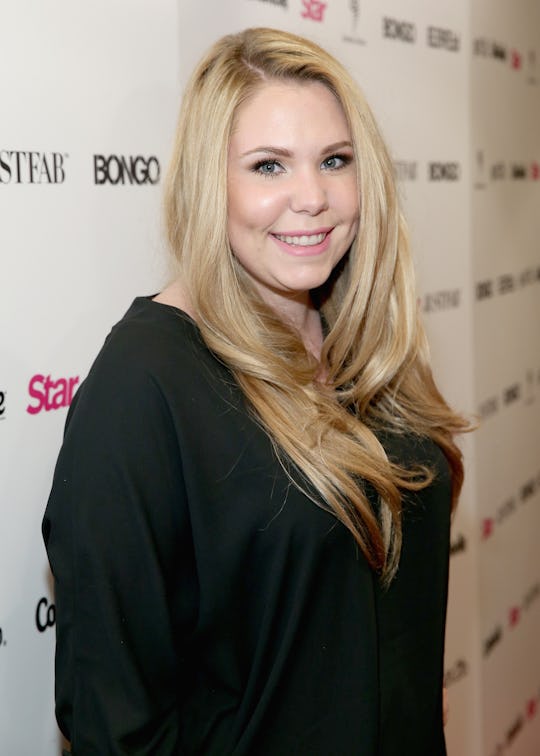 Jonathan Leibson/Getty Images Entertainment/Getty Images
Why 'Teen Mom 2' Star Kailyn Lowry Might Keep Her New Baby Off TV For Now
After the reality TV star welcomed her bundle of joy to the world on Aug. 5, the world has been anxiously waiting for the little one's TV debut. Not all of us are content following his progress via tabloid news, so will Kailyn Lowry's new baby be on Teen Mom 2? Well, as it turns out, Baby Lo's mom isn't quite ready to commit him to a life in the public eye just yet.
Lowry's youngest son has been in the world for only a couple of weeks, but the mom of three has already addressed rumors about whether or not he will appear on Teen Mom 2. Her son's father, Chris Lopez, has made it abundantly clear that he has no desire to participate in the MTV series and Baby Lo may also reportedly remain out of the limelight.
In an interview with Radar Online, Lowry shared the status of her relationship with Lopez and how it impacts their parenting. The two have been discussing Baby Lo's potential fame as well. When asked if he would appear on TV, she said, "I don't know right now. Chris and I are talking about it. We'll see."
Lopez, for his part, has remained out of the public eye, though Radar Online reported that he did attend the baby's birth despite rumors that he wouldn't make it. Lowry said:
Just based on how our relationship has been, there was always a question whether he would have his phone on him or would he be at work. I'm so glad that he came.
According to In Touch Weekly, Lowry and Lopez ended their relationship earlier this year and he has been the subject of criticism for apparent absentee parenting. As reported by the magazine, she is hopeful for the future and remained positive in her comments on Lopez:
I think he has been as supportive as he can. He does the best to his ability even though it doesn't necessarily meet the standards of what everyone else expects of him. I think people need to keep that in mind.
As for their co-parenting after separating, Lowry assured the public that she has plenty of people on her side. According to Radar Online, she said:
We're going to figure it out and we'll make whatever work. I have a really good support system with my friends right now who truly have been there through my pregnancy and helped me prepare for the baby to come home.
Whether or not to keep a child out of the public eye is a decision that many celebrity parents must grapple with. Not all children with famous parents live as publicly as Blue Ivy and North West. And given the family focus of the Teen Mom franchise, it is natural to hope for small-screen sightings of the little ones, too. Ultimately, it is up to Baby Lo's parents to decide if and when he appears on the show — and that is totally OK.