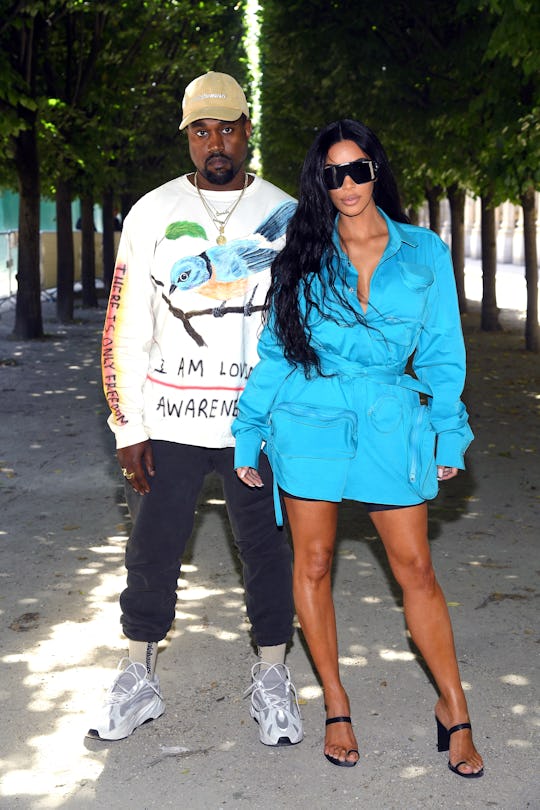 Pascal Le Segretain/Getty Images Entertainment/Getty Images
Fans Wonder If Kanye West Will Be In Season 15 Of 'KUWTK'
The 15th season of Keeping Up With the Kardashians has begun and though the first episode was already filled with tons of drama, fans are already wondering about what's to come. Or rather, who's to come. Though Kim Kardashian has been married to Kanye West for years, Kanye's appearances on the show are few and far between. So will Kanye be on this season of KUTWK or is he still staying away?
Kanye has been in the news a lot lately, mainly because of his controversial statements. People were upset when he referred to slavery as a "choice" on TMZ Live, and then he made a lot of controversial comments on Twitter, showing his support for President Donald Trump. He's also been seen wearing a "Make America Great Again" hat.
Despite all the backlash, Kim and her family have remained supportive of the rapper, who recently released a new album. Though it's very unlikely that Kanye will appear on this season, just like in seasons past, he will most likely come up in conversation. For example, according to People magazine, Kendall Jenner and Kourtney Kardashian were filming for the show when the sisters watched Kanye's interview with The Breakfast Club host Charlamagne tha God.
During the interview Kanye opened up about his mental breakdown, which he called a breakthrough, his hospitalization, and Kim's Paris robbery. Kanye also discussed his friendship with Jay Z and his visit with the president at Trump Tower, where he had been photographed with Donald Trump.
In addition to what Kanye's been saying in interviews and on Twitter, fans are also curious to see if the Kim will address the Donda House controversy on the show this season. The issue began when rapper Rhymefest tweeted at Drake, in the middle of Drake and Pusha T's feud, asking him to donate money to Donda's House, a charity founded in Kanye's mother's name. Rhymefest claimed that he "spoke to Kanye about it. His response was 'f*ck the youth of Chicago.'"
Rhymefest and Kanye were long time friends and together they founded the charity in 2011 in honor of Kanye's mom, Donda West. Kim, who's always willing to stick up for her man, then got on Twitter to clapback.
"U haven't been right since u got kicked out of the studio in Hawaii wearing fake Yeezy's @RHYMEFEST [sic]," she tweeted. "You're over levergenging [sic] Kanye's name & asked Kanye to donate money to u so stop w your fake community politics & lies. Truth is you haven't been able to sustain the foundation."
Kim went on with a list of tweets attacking the rapper, ending with threatening to take Donda's House from him and "let my children run it the way it should be run!" Rhymefest then released his own statement on Twitter before Donda's House then released another statement, announcing that the organization will no longer be using that name because of the feud. The organization is now called Art of Culture, Inc.
Kim went back on Twitter to explain the feud and why she took issue with Rhymefest in the first place, but many people were not moved. They felt that Kim's attack against an organization that was trying to do good in Chicago, Kanye's hometown, was unnecessary and also accused Kanye of neglecting his hometown for many years now. This only added to the general public disdain for Kanye, and in association, Kim.
Though the Kardashians do tend to show a lot of their private lies on their show, it'll be interesting to see how they address the number of controversies surrounding Kanye, especially if he doesn't appear on the show.