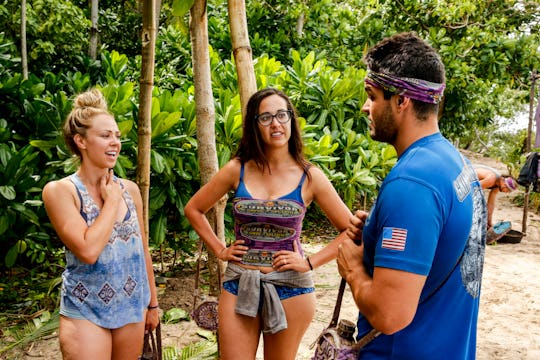 Robert Voets/CBS
Dan And Kara May Be Headed For A Showmance On 'Survivor'
Season 37 of Survivor is already turning out to be one of the most riveting seasons yet. The show comes with a new theme — David vs. Goliath — in which the underdog team of "Davids" are pitted up against the well-advantaged "Goliaths." But what season of Survivor is complete without a little showmance? Two contestants on the "David" team seem to have made a romantic connection, but will Kara and Dan get together on Survivor?
As of now, there is no way to know whether or not Kara and Dan will hook up on the show, but after seeing the two flirt with each other, their chemistry and connection is pretty obvious. About 20 minutes into the premiere episode, Florida S.W.A.T officer Dan Rengering revealed that he had a major crush on NFL cheerleader and real estate agent Kara Kay.
During a discussion with his team about his dramatic weight loss, everyone told him how great he looked now. "As old Dan, or 'fat Dan' as I like to call him, I never would have had the confidence to walk around here and proudly say that I'm a Goliath," Dan says in a confessional. "But now the most beautiful girl is telling me I'm very good looking, so I can't help myself."
When Dan and Kara are away from the group, he tells her that she is his kryptonite and he knew she was going to get him in trouble. Flirty talk commences, and it really looks like Dan is crushing hard. "Kara, she is beautiful," he tells the camera. "First time I saw her, I was like wow, she's right up my alley, like everything I would want in a woman. Like perfect, like wow."
Kara asks Dan what kind of girls he likes, and reveals that he likes blonde and beautiful women like her, which makes her blush. "Dan is one of those people I immediately connected to," Kara says in a confessional. "I can tell he's a genuine soul, he's one of the nicest people I've met. It's clear that he's drawn to me, which makes it impossible for me not to be drawn to him."
After this flirty exchange, Dan asks Kara if they are going to go through with the showmance. "Well you know, we can't put targets on our backs," she says, to which he responds, "As long as we don't make it obvious, you just kiss me in secret." The two may be hesitant about an obvious showmance because a strong couple could threaten other contestants, who could then turn against them.
Dan admits that he kept telling himself not to get into a showmance, knowing it may hinder his chances at winning. But it looks like he's so smitten by Kara that he's willing to take his chances. "Showmances screw you so hard. 'Don't do it' I kept telling myself," said Dan. "But there's been people who fell in love on Survivor, so why not me?"
Dan and Kara's chemistry is pretty obvious, and the two have admitted to liking each other. But despite their secret kissing plans, it's not clear if they become a couple on the show. Not yet, anyway. As the rest of the season unfolds, fans will get to see more of their dynamic, and find out if their flirtation actually turns into a relationship. Until then, your guess is as good as mine.
All new episodes of Survivor air Wednesdays on 8 p.m ET on CBS.