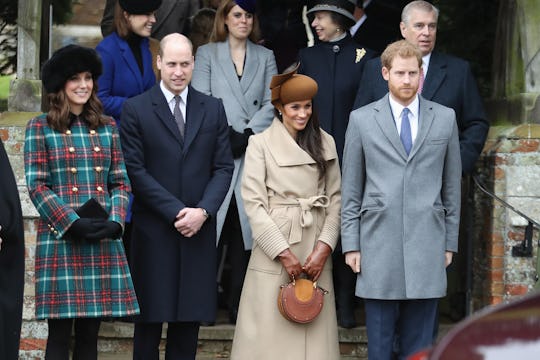 Chris Jackson/Getty Images Entertainment/Getty Images
Why Kate Middleton *Might* Not Be A Bridesmaid In Prince Harry & Meghan Markle's Wedding
Bridal parties are serious business, especially when it comes to a royal wedding. And, people around the world are probably wondering whether Kate Middleton will be in Prince Harry's wedding to Meghan Markle this upcoming May. Unfortunately for Middleton fans, she may not be playing a major part in the nuptials, unlike the rest of her family and here's why.
First of all, Middleton and Markle don't know each other too well yet. Royal expert Marlene Koenig told OK! Magazine that it's not likely that Middleton would be a bridesmaid. She will reportedly not be a matron of honor either, but a source did tell Hollywood Life that Markle may find some kind of role for Middleton, although it's not clear what wedding duty it could entail.
Meanwhile, Middleton's husband, Prince William, will serve as his brother's best man, according to Hollywood Life. In addition, Middleton's two children will also be involved in the ceremony. While Princess Charlotte will likely be a flower girl, Prince George will act as page boy, according to Harper's Bazaar. As Koenig explained to the publication:
George and Charlotte are Harry's only niece and nephew, so it would be a real shocker if they were not included. In Britain, the bride goes down the aisle first, followed by attendants or bridesmaids and page boys holding the train.
Markle's BFF and stylist, Jessica Mulroney, will have her daughter as a flower girl as well, according to Hollywood Life. In addition, Mulroney is reported to be the matron of honor, if not a bridesmaid. Misha Nonoo is reported to be a possible bridesmaid as well since she supposedly set Markle up with Prince Harry in 2016, according to the Daily Mail.
When Middleton's sister Pippa got married in May 2017, there were reports that Middleton decided not to be in the bridal party because she didn't want to upstage her sister, but, according to AOL, Middleton opted to be her sister's only attendant on her big day. Perhaps Middleton will make the same choice for Markle and Prince Harry's wedding. At the time of Pippa Middleton's wedding, royals expert Judy Wade explained to People:
Kate would upstage her sister. It's a tricky situation for Pippa. She would want her sister by her side, as who else would she trust to make things go well? But if your sister is a future Queen, she is going to upstage the bride and draw attention. Kate would want to be in the background as much as possible.
Another key factor that could affect Middleton's being a part of the wedding is that her due date is just weeks before the nuptials, as reported by The Sun. Middleton may not be feeling totally up to playing a major part in a very high-profile wedding so soon after giving birth. Not to mention, this is an event that will be televised across the globe, with millions of eyes watching Middleton's every move.
Kensington Palace confirmed on Twitter that the Duchess of Cambridge's due date is in April 2018; the date of Markle and Prince Harry's wedding is May 19, 2018, according to Us Weekly. With Middleton's due date and Prince Harry's wedding date being an estimated one month from each other, Daily Mail has pointed out that neither of the big events should overshadow the other because they are far enough apart.
Whether or not Middleton is a part of the wedding, The Mirror reported that there is one guideline she must follow. According to The Mirror, it is mandatory to wear hats or fasteners to royal weddings, so Middleton is expected to follow the dress code. But, who wouldn't want to wear one of those fabulous headpieces?
No matter who ends up being in Prince Harry and Markle's wedding party, this event — the event of 2018, probably — will absolutely be a memorable one.
Check out Romper's new video series, Romper's Doula Diaries:
Watch full episodes of Romper's Doula Diaries on Facebook Watch.