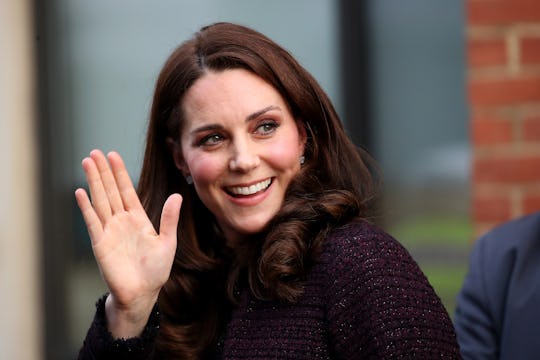 Chris Jackson/Getty Images Entertainment/Getty Images
Here's What Would Have To Happen For Kate Middleton To Become Queen
With all the royal news focused on Prince Harry and his fiancée, Meghan Markle, these days, Prince William and his wife, Kate Middleton, are hanging out in the background a little bit. But with Middleton's third baby due in the next few months, plus the adorable outings Prince William and Middleton are spotted on with their other two kids — Prince George and Princess Charlotte — there's still plenty to talk about when it comes to the royal family that doesn't involve Prince Harry, Markle, and their upcoming wedding. Middleton still has plenty of fans who watch her every move as Duchess of Cambridge. But when her husband becomes king, will Kate Middleton be queen? It's a long ways off, but experts do say she will one day be called Queen Catherine.
Middleton was reportedly listed on Prince George's birth certificate as a Princess of the United Kingdom, according to Hello! magazine. But that was apparently meant to be her job description and not her title. Middleton is officially titled as Her Royal Highness the Duchess of Cambridge, according to the Duke and Duchess of Cambridge's official website. And she will remain a Duchess until her husband, Prince William, who is second-in-line for the throne behind his father, Prince Charles, becomes king, according to AOL.
So yes, Middleton is the future queen of Britain, if everything goes as expected. And when she takes on that role, she'll make history in one very interesting way: Middleton will become the only female British monarch to have a degree when she becomes queen, and will be the most highly-educated female monarch in British history, according to AOL. What a badass.
But as it turns out, in the meantime, Middleton has a bunch of other titles too. When she and Prince William got married, Middleton did technically take on the female version of her husband's titles, so she did become Princess William of Wales. But, apparently, that's more like a last name that some regular, non-royal folks take on when they get married, not a title, according to Good Housekeeping. You only have prince or princess before your name if you were born into the role, the magazine reported.
Prince William and Middleton are also known as Earl and Countess of Strathearn in Scotland, and the Baron and Baroness of Carrickfergus in Ireland, Good Housekeeping reported. Because clearly, royal names and titles aren't confusing enough already, so what's a few more royal designations to make it even more complicated?
And actually, in reality, Middleton won't be officially titled Queen Catherine when Prince William becomes King. She'll actually be a queen consort, according to POPSUGAR.
But similar to how everyone called Prince William and Prince Harry's mother, Diana, Princess Diana or "Princess Di," though she didn't actually hold rights to that title, Middleton will probably be called Queen Catherine. But being known as queen is different than being titled that way.
But it might be awhile before Middleton is called Queen Catherine, whether that's actually correct or not. The British royal family has a few branches of the tree to go through before Prince William and Middleton become figureheads of the monarchy, and anything could happen in the meantime.
Middleton's daughter, Princess Charlotte, actually has a chance to be queen someday too. Thanks to a change in law regarding the line of succession that occurred in 2013, princes no longer take precedence over their sisters when it comes to taking on the throne, according to The Telegraph.
So Princess Charlotte is fourth in line, no matter whether the third baby Middleton is expecting is a boy or girl. She would become queen, by birthright rather than marriage, if Prince George died before her without having any living children.
Middleton may one day be called Queen of England, but unless some really crazy stuff happens to the British monarchy in the future, it's not a name she'll be taking on anytime soon. Queen Elizabeth II is still going strong, even at 91 years old. Long live the queen, right?
Check out Romper's new video series, Romper's Doula Diaries:
Watch full episodes of Romper's Doula Diaries on Facebook Watch.