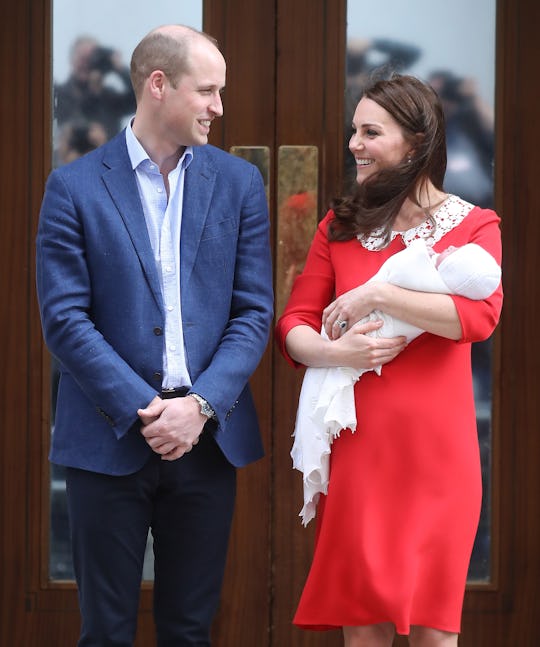 Chris Jackson/Getty Images Entertainment/Getty Images
Here's What Kate Middleton Will Likely Receive As A Push Present From Prince William
Another royal baby has captured the world's attention, and people want to know every detail about The Duchess of Cambridge, Kate Middleton's latest birth. For instance, will Kate Middleton get a push present for her third child? A gift given to a woman soon after she has given birth, a push present is one way a significant other can thank a new mom for their hard work. And when you're royalty, these gifts can exist on a whole other level.
Although there's no word yet about whether Middleton has received a push present in honor of her third child, the Duchess has gotten some incredible gifts for past deliveries. For the birth of Princess Charlotte, Middleton received a pair of Kiki McDonough earrings, according to Today's Parent. Featuring green tourmaline, green amethyst, and diamonds, the earrings would make any new mom feel elated. A favorite of the Duchess, British luxury jewelry designer Kiki McDonough is known for her striking, colorful gemstone creations.
As far as her first push present is concerned, it looks like Middleton received a diamond eternity ring from Annoushka, according to Marie Claire. In fact, the Annoushka website even features a picture of Middleton on the eternity band's page. Oh, and Prince Williams also reportedly designed a special brooch with a pink diamond as an additional gift for Kate's first baby, according to Express. There's no such thing as too many push presents, right?
Eclipse Diamond Eternity Ring ($1,200, Annoushka)
Although push presents are just starting to catch on in some social circles, these baby baubles have been customary among the royals for years. For instance, Prince Albert gave Queen Victoria a brooch in the shape of her son's crest for the birth of Prince Albert Edward of Wales, according to Hello! Magazine. It looks like fine jewelry is a pretty standard push present for the royals, so Middleton may soon have another jewel for her amazing collection. Whether she gets a timeless piece that once belonged to Princess Diana, or a brand-new design from a contemporary jeweler, chances are Middleton's gift for the third child will also be bright and sparkling.
Middleton is hardly the only new mom to receive gorgeous push presents in recent years. Outside the royal family, plenty of wealthy individuals have been given extravagant gifts in honor of their new babies. And these gifts don't stop at jewelry. For instance, Kylie Jenner's Ferrari pic was captioned as a push present in honor of her daughter Stormi. The car, a black Ferrari LaFerrari, was a gift from Stormi's father Travis Scott, according to Cosmopolitan. It's one heck of a push present, that's for sure.
Cars aren't the only mode of transportation given as push presents either. In a totally badass turn, Pink received a custom motorcycle as her push present, according to the star's Instagram. "Thanks @hartluck for the push present 💕 I give you babies and you build me motorcycles. Some girls like diamonds, I like heavy metal and carbon-fiber and chrome," said Pink in the pic's caption. Hey, some new moms appreciate a fine machine.
If you're a purse person, then this gift will spark you interest. Kristin Cavallari received a grey Birkin Bag push present from Jay Cutler, according to People. Somehow I doubt it was put to work as a diaper bag.
But this isn't to say that jewelry is a passé push present among the Hollywood set at all. Of course, Kim Kardashian received a Lorraine Schwartz choker necklace, as noted in Elle. Those are diamonds all around it. Lots and lots of diamonds.
Compared to some of these extravagant push presents, the royal jewels look downright understated. But whatever Middleton receives to celebrate the birth of her third child will undoubtably be lovely.
Check out Romper's new video series, Bearing The Motherload, where disagreeing parents from different sides of an issue sit down with a mediator and talk about how to support (and not judge) each other's parenting perspectives. New episodes air Mondays on Facebook.