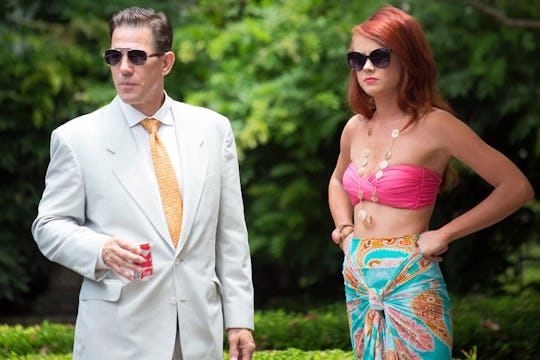 Bravo
Will Kathryn Dennis & Thomas Ravenel Of 'Southern Charm' Have More Kids? Who Can Predict
So there's no doubt that the relationship between Kathryn Dennis and Thomas Ravenel is — how do I put this — about as complicated as trying to solve a Rubik's Cube while being blindfolded, while reciting the alphabet backwards, all while driving a 18-wheeler backwards. It's complicated and something most of us wouldn't want to even consider the thought of getting involved in it. But, alas, here we are, two and a half seasons in, two children later, wondering if Southern Charm not-couple Thomas and Kathryn will have another child. Because, while it sounds like something that may never happen in the current Thomas/Kathryn climate, it's not something we can really take off the table.
Kathryn and Thomas are the parents to two very beautiful children, Kensington and St. Julien. We've seen both of the kids come into this fine world over the course of the series, which is special — it feels like they're basically growing up with us, and the show. Unfortunately, the climate for which those two are being raised is anything but peaceful, at least that's how the show displays it. Kensie and St. Julien have two parents who don't always see eye to eye, as we've seen on the show. Kathryn just recently got Thomas to co-sign on a home for her — she was living with her parents — but the two don't live together. Right now, Kathryn and Thomas seem to be attempting to co-parent, while Thomas has limited visitation with his children. While there is absolutely nothing wrong with being a single parent raising children, the relationship that Thomas and Kathryn have put in front of audiences is certainly not one that seems to beg for more commitment.
Plus, it doesn't even seem that the two are really on the best of terms. While it's hard to keep up with, it seems that Kathryn worries that Thomas (and company) will be spreading alleged lies about her at the reunion, which certainly doesn't scream "on good terms."
Hopefully these two can focus on working on their current situation. That's certainly the most important thing going on here. They both deserve to be happy — they just have to figure out if happiness comes from them being together or them being separated. Either way, there's no doubt that their current children are absolutely adorable.