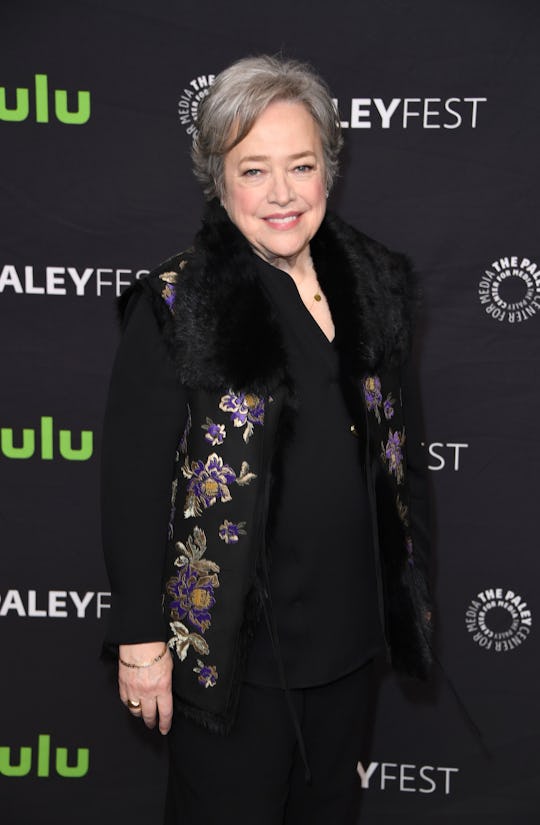 MARK RALSTON/AFP/Getty Images
Don't Expect To Find Kathy Bates In 'AHS: Cult'
Though the theme of every season of American Horror Story changes, the cast often stays relatively the same, making a lot of fan favorites amongst the cast. Regular cast members include the likes of Sarah Paulson, Evan Peters, Angela Bassett, and Kathy Bates. But will Kathy Bates be in American Horror Story: Cult? Unfortunately, her schedule didn't allow for her to be in this particular season.
Bates, who received an Oscar for her role in the film adaptation of Stephen King's thriller, Misery, is very familiar with work in horror stories. That's why she was perfectly casted for each of her roles in the AHS franchise. She first joined the series in the third season, Coven, as Madame Delphine LaLaurie, which rightfully earned her an Emmy. She then went on to earn two more Emmy nominations for her roles as Ethel Darling in Season 4's Freak Show and Iris in the fifth season of Hotel. She also appeared in Season 6's Roanoke as "The Butcher" and Agnes Mary Winstead.
However, when it came time for Season 7 to start up, Bates had a scheduling conflict, due to filming her new Netflix series, Disjointed, and thus couldn't do AHS this time around. And while her absence is sure to upset some fans, show creator Ryan Murphy told the press that he is leaving the door open for Bates, along with longtime favorite Jessica Lange, to return to the series for future seasons any time they would like.
For now though, the only familiar faces fans can expect to see in Cult are Sarah Paulson, Evan Peters, Emma Roberts, Cheyenne Jackson, Frances Conroy, Mare Winningham, and Adina Porter.
Paulson's character, Ally Mayfair-Richards, is married to a woman named Ivy (Alison Pill), with whom she also has a son with it, and it appears as though Ally and Peters' character, Kai Anderson, will be the season's main adversaries. As has been suggested since the announcement of this season, Cult will follow the 2016 election and while Aly is devastated by the results, Kai is clearly uplifted.
The "cult" aspect of the show seems to come from Kai's gang of clowns that will terrorize the town, especially Ally, who has coulrophobia, which is a fear of clowns. In the trailer, Ally is seen talking to her therapist about how her coulrophobia has gotten worse since election night and, unfortunately, it's clear it'll only go downhill for Ally throughout the season.
Thus far, the reviews of Cult have been overwhelming positive and fans should expect another twisted and slightly terrifying season of AHS.