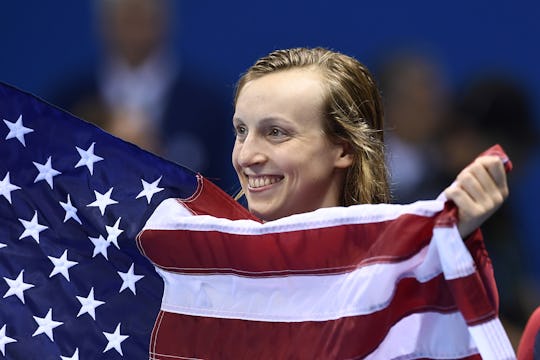 GABRIEL BOUYS/AFP/Getty Images
Will Katie Ledecky Go To College After The Olympics? She's Set To Swim For Stanford
The 2016 Olympic Games in Rio are finally here, and when it comes to women's swimming, Katie Ledecky is absolutely the one to watch. The 19-year-old athlete from Bethesda, Maryland, has already proven herself to be the top female swimmer at this year's games, arriving in Rio with a number of world records to her name, and will likely take home a number of gold medals when all is said and done. But, having graduated high school in 2015, Ledecky also has something else on her mind: college. Will Katie Ledecky go to college after the Olympics? She has actually already accepted a swimming scholarship to Stanford, and is set to begin there in the fall, having deferred her enrollment for one year to train for this summer's Olympics.
According to Swim Swam, Ledecky signed a letter of intent to attend Stanford in November 2014, ahead of her graduation from Stone Ridge of The Sacred Heart High School in spring 2015. But with the Rio Olympics on the horizon, Ledecky (unsurprisingly) opted to put college on the back burner so that she could focus on winning gold yet again (her first experience winning Olympic gold came in London in 2012, when she was only 15). And it looks like she made the right choice: according to USA Today, not only did Ledecky already win a gold medal in the 400-meter freestyle Sunday, but she broke her own world record when she did so, shaving almost two seconds off of her previous record, and beating her competitors by almost five seconds. No big deal, right?
There's no doubt that Ledecky is at her best right now, and as women's swimming's biggest name, she'd also have mega earning potential if she were to turn pro, like many top Olympic athletes do. And yet, Ledecky has communicated no intention to actually do that, at this point still planning on taking Stanford up on its offer of a scholarship. That decision is confusing to many, according to The New York Times, because swimming for Stanford as an NCAA athlete would preclude her from actually accepting any of the money she could be entitled to earning — not just from winning the events themselves or setting world records (something she is clearly very adept at doing), but also from taking on the kinds of super-lucrative endorsement and sponsorship deals that can make athletes like Ledecky very wealthy. It's one of the reasons, for example, why Michael Phelps chose to forego college swimming, and why Ledecky's teammate, Missy Franklin, left college swimming to turn pro after her sophomore year.
And it turns out that the missed revenue for Ledecky could be staggering: according to The Chicago Tribune, it's entirely possible that she could have earned between $3 million and $5 million in endorsement opportunities by now, even before the Rio Olympics began. That's not even including the money she could have earned just by swimming alone. The Tribune estimates one of her 2015 wins, an 800-meter freestyle where she set a world record, could have earned her $50,000, and at the 2013 World Aquatics Championships, she could have netted $100,000 for her various wins.
So why hasn't Ledecky turned pro? She hasn't commented directly on the choice, but there are a few theories. Firstly, she might have no desire to juggle things like sponsorships, endorsements, events and appearances. After all, Franklin, who did opt to take advantage of those opportunities, told The New York Times that it's a lot more work than perhaps anybody realizes:
[Sponsorship] is a little bit more tiring than I was expecting it to be...It sounds kind of silly when you talk about it, but photo shoots and commercials — those days are actually really, really taxing, more mentally than anything.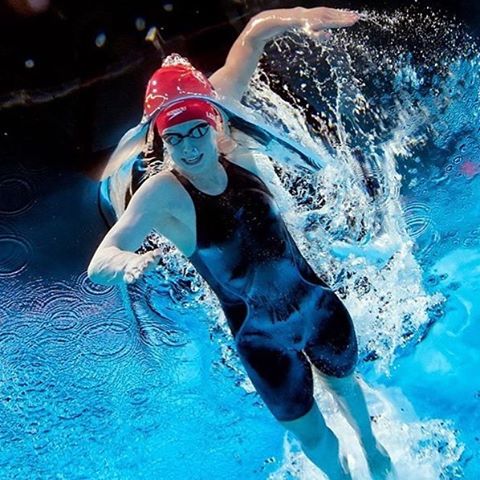 It has also been noted that Ledecky doesn't particularly need to turn pro for the financial gain if she doesn't want to. According to Sports Illustrated, she already comes from an upper-class family: her father is a Harvard and Yale-educated lawyer, her uncle co-owns the New York Islanders, and her older brother is also a Harvard grad. With a full-ride swimming scholarship in her back pocket, Ledecky could choose to take her Stanford degree and move on to whatever she likes, without having to experience the downsides of juggling athletic deals.
But it could also be, of course, that despite being one of the world's best athletes, Ledecky is still just a teenager who is looking forward to heading to college in the fall. If she didn't happen to also be an insanely talented and hard-working swimmer, she would have gone off to college last fall like all of her friends, after all, and no one would have faulted her for it.
Regardless of Ledecky's plan — it's possible, of course, that she could follow Franklin's lead and turn pro eventually, if not right now — one thing that seems totally certain is that the fact that she still plans on swimming in some capacity is really great news for the sport, and for all the viewers glued to their screens during the Rio Olympics and beyond. Seeing Ledecky totally dominate each of her events is truly a sight to be seen — especially since she somehow manages to make her victories look effortless. And that is no small feat.