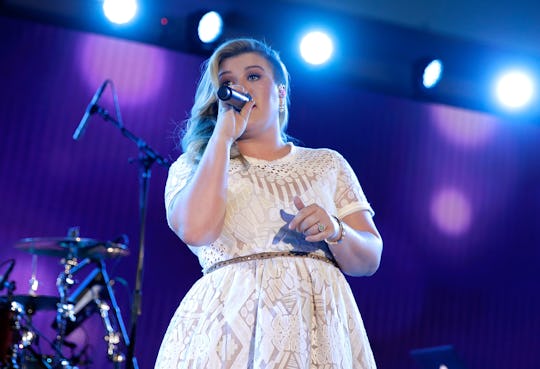 Isaac Brekken/Getty Images Entertainment/Getty Images
Will Kelly Clarkson Be At The 'American Idol' Finale? It Wouldn't Be the Same Without Her
American Idol is what first brought Kelly Clarkson to audiences everywhere, introducing everyone to her spunky personality and fantastic vocals. It's where she got her start, so with the show finishing up this year (after running since 2002), it would be crazy to imagine the the finale airing without any appearances from Clarkson at all. So, will Kelly Clarkson be at the American Idol finale?
Of course she will be! There is a catch. Since Clarkson is expecting to give birth any day now, Huffington Post reports that she'll be showing up via a pre-taped segment. The series is ending its run with a three night event that not only closes out the current season's competition but hits the highlights of the entire show. The original – and most iconic – three judges (Simon Cowell, Paula Abdul, and Randy Jackson) will return to offer up reminiscences and anecdotes. There will also be live performances from a truly staggering amount of Idol winners, with everyone eager to revisit the stage where they had their first victory. Clarkson has actually stopped by American Idol since her original win, and gave a memorable performance just this season.
That appearance saw Clarkson giving an emotional performance of her song "Piece by Piece" that left her in tears. "It was just, stars aligned for me to really be screwed emotionally [that night]," she told Billboard. "It was just the last time I was on Idol and my little kid is running around the same hallways that I was running around at 19. I was just super screwed!" It was a song with particular significance to Clarkson because it dealt with her absent father. Compounded with all of the memories of her exuberant win years before, it proved too overwhelming. However, it was yet another in a long line of great moments captured on the show.
Clarkson didn't have much experience before she took her original turn on the reality show. A waitress from Texas, she had a relatable and down to earth energy that, combined with her genuine talent, attracted fans across the country. After turning in one great performance after another, Clarkson took home the win. Since, she has parlayed that into even greater success, becoming a real pop star in her own right in a way not every Idol winner has managed. Her appearance in the finale will show just how far she's come in the last 13 years, making it a perfect way to close out such a long-running series.