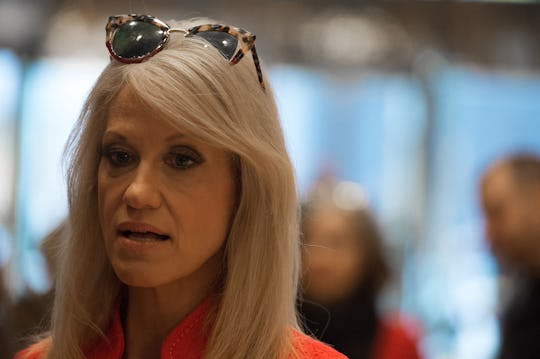 BRYAN R. SMITH/AFP/Getty Images
Will Kellyanne Conway Get A Job In Trump's Administration? She's The "Trump Whisperer"
Just two days after Donald Trump unexpectedly secured the presidency, the woman behind his winning campaign tweeted that she had been offered a White House job. Nearly a month later, former campaign manager and current transition team member Kellyanne Conway still seems to be everywhere, defending Trump on the political talk shows and even attending a costume party with the president-elect, as she did Saturday night. But despite her previous admission and her post-election omnipresence, many are still speculating over whether Conway will actually get a job in Trump's administration as her boss continues to fill out his Cabinet with oftentimes controversial nominees. Conventional wisdom would suggest that Conway would have a top-level position waiting for her if she wants it, but, if there's anything 2016 has taught us to confidently predict, it's that Trump will be unpredictable.
The first official inkling that Conway may transition into the White House alongside Trump came on Nov. 10, when she rebuked a tweet from New York Magazine's Gabriel Sherman, who relayed that "sources" had told him that she was "reluctant" to take a job in the Trump admin because she wanted to continue running her polling business. "False," she fired back, embedding the offending missive. "Could it be those 'sources' want the WH job I've been offered?"
In the weeks since, Conway has remained the among the prominent figures in the Trump transition, but neither she nor her boss has offered much affirmative insight that she truly will take on a government role, whatever that may be. In fact, Conway seems to be setting the stage for her own exit. Despite reports that she was being considered for the role of White House press secretary, Conway said in an on-air interview with Fox News' Megyn Kelly Nov. 21 that she had to consider her other obligations and responsibilities while mulling over the unspecified position that Trump reportedly offered her:
I think it's everybody's dream to serve their nation at the highest level that they can. But I have four small children and I need to balance all personal and professional considerations. I'm deciding where I'm best for this president-elect and vice president-elect.
The bottom line, it seems, is that Conway remains adamant that she could easily secure the job of her choice in the impending Trump White House, but is unwilling to confirm that she does, in fact, want that.
Just a week after the Megyn Kelly interview, for example, Conway told MSNBC via text that she could have the position of her choosing. "May stay outside to take the Plouffe role and run the political operation," she texted at the time, referring to President Obama's 2008 campaign manager David Plouffe. "Trump wants me by his side." Conway also criticized rumors that she was splintering with the president-elect, noting that they were "all false [and] sexist."
On Dec. 2, she fueled the rumor that she may take the role of an outside advisor, insinuating on Twitter that Trump was courting her but that she had personal reservations. "West Wing welcome mat is out, but we need a superstructure like the one Plouffe built," Conway tweeted. "Plus, mom of four is not [in] most job descriptions."
Conway's latest clue that she's taking herself out of the running for a Cabinet position roughly coincides with a minor uproar after she publicly criticized Mitt Romney, whom Trump is reportedly considering for secretary of state, for not supporting her boss during the campaign. On Meet the Press last week, she told MSNBC's Chuck Todd that she thinks Trump's supporters felt "betrayed" that the former Massachusetts governor — "who went out of his way to question the character and the intellect and the integrity of Donald Trump" — was a contender for the most prominent of Cabinet posts. She's consistently lambasted Romney in public even as MSNBC reported last week that Trump was "furious" over this decision.
The Washington Post, on the other hand, reported that unnamed sources within both Romney's and Trump's inner circles did not believe that she had gone "rogue" — as someone who was prepared to leave a job entirely may do.
We don't know for sure what Kellyanne Conway's next move is. What we do know is that she's long been a fixture on the Trump team, and may well continue to be for some time.