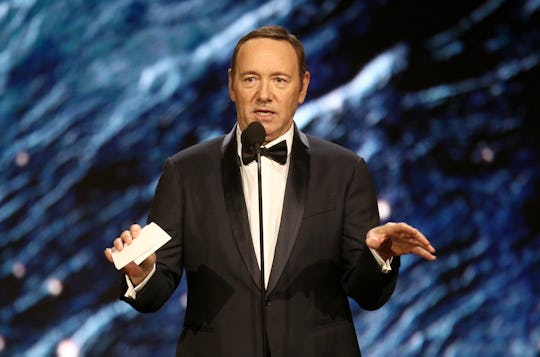 Frederick M. Brown/Getty Images Entertainment/Getty Images
It's Highly Unlikely That Kevin Spacey Will Attend The 2018 Golden Globes
As you probably already know, Hollywood is having a bit of a reckoning at the moment. Hundreds of women and men have come forward to accuse some of the biggest names in show business of sexual harassment and assault, including former House of Cards star Kevin Spacey, who is currently facing multiple accusations of alleged sexual misconduct, assault, and harassment. Given that he was removed from the Netflix show in the wake of the allegations, it seems highly unlikely that Kevin Spacey will attend the Golden Globes this year. But if he does make an appearance on the red carpet, it would indeed be very surprising.
In October 2017, Spacey was accused of sexual harassment by actor Anthony Rapp, according to a BuzzFeed exposé. Rapp alleged that Spacey made sexual advances towards him when he was only 14 and Spacey was 26. According to BuzzFeed's exclusive report and interview with Rapp, he alleged that Spacey befriended Rapp nearly two decades ago in 1986 while they both were performing on Broadway shows. Spacey allegedly "invited Rapp over to his apartment for a party, and, at the end of the night, picked Rapp up, placed him on his bed, and climbed on top of him, making a sexual advance," according to BuzzFeed.
After Rapp's accusation, 15 accusers have come forward to allege some form of assault or harassment from Spacey, according to USA Today. For his part, Spacey has apologized for what happened with Rapp, according to CNN, while also claiming that he doesn't remember it. Additionally, Spacey has yet to comment on any of the other claims made against him.
So, it makes sense that he wouldn't appear at the 2018 Golden Globes.
Additionally, according to Vanity Fair, Spacey wasn't nominated for any Golden Globe awards this year, after having been fired by Netflix from his role on House of Cards. According to NBC News, "Season six of the political thriller will be eight episodes, starring Robin Wright. The final season will not include Spacey, as previously announced."
And since October, Spacey has yet to so much as like a tweet, clearly taking this time to stay out of the public eye for a while. So, Spacey's expected absence at the 2018 Golden Globes isn't exactly surprising. In fact, it would probably be more surprising if he showed up, considering the fact that he was snubbed this year, and that he's been virtually blacklisted by Hollywood for months now.
In his interview with BuzzFeed, Rapp explained why he decided to come forward, citing the recent allegations made against Harvey Weinstein:
And not to simply air a grievance, but to try to shine another light on the decades of behavior that have been allowed to continue because many people, including myself, being silent. … I'm feeling really awake to the moment that we're living in, and I'm hopeful that this can make a difference.
Spacey's agent and publicist have reportedly cut ties the actor amidst all of the accusations, and the actor himself hasn't spoken out since October, according to Vanity Fair.
So, with no agent or publicist in sight, it seems as though whether or not Spacey is attending this year's awards would be left in his hands. But, he isn't the only man in Hollywood who has been accused of misconduct or sexual harassment in some form. Along with Spacey and Weinstein, dozens of other prominent men in Hollywood have been accused of such conduct, according to NBC News.
Although it's very unlikely that Spacey will attend the 2018 Golden Globes and people will more than likely take notice of his absence, the accusations made against him have made a lasting and important impact.
Check out Romper's new video series, Romper's Doula Diaries:
Watch full episodes of Romper's Doula Diaries on Facebook Watch.